King Arthur: Legend of the Sword * (2017, Charlie Hunnam, Jude Law, Astrid Bergès-Frisbey) – Movie Review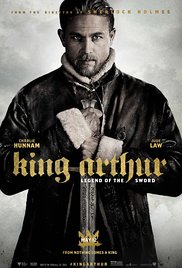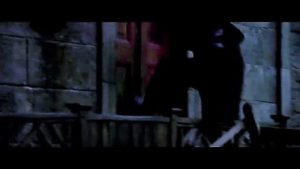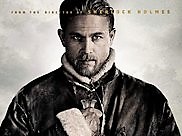 Jude Law's evil Lord Vortigen kills young Arthur's mum and dad (Eric Bana) and takes over as King. Arthur grows up to be Charlie Hunnam, aka Charlie Hunkam (cue gratuitous naked chest scene), whose aims are (1) survival (well he's obviously the fittest), (2) finding a big sword and a bloke band of allies, (3) vengeance on Vortigen and (4) taking over as King and constructing a round table, IKEA-style.
The merry men are an eclectic, well assorted band, who include Djimon Hounsou as Bedivere, Freddie Fox as Rubio, Kingsley Ben-Adir as Wet Stick, Neil Maskell as Back Lack and, poignantly, Hunnam's Queer as Folk co-star Aidan Gillen as Bill. Several weak jokes, or rather remarks, are made alluding to the idea that Hunnam and Gillen might have previously met. In this kind of arch way, the script aims to be amusingly jokey, but falls pancake flat every time.
The merry men actors are all good and up for it. But they are not given anything much to work on, in the way of decent dialogue or interesting characters or character development. So unfortunately they don't involve us too much, not nearly as much as they should anyway.
With Bana out the way all too quickly thanks to the death thingy, Law does a lot of moustache twiddling as the villain, at least he would if he had one, but all to very little avail. Some much more extravagant actor, or much more extravagant acting, is needed to make this work, and make it fun.
That leaves Hunnam, whose movie it is entirely. Apart from his weird northern English accent, weirdly so because Arthur grows up as a street kind in Londinium, he is good and involving. We do care about him, though we never worry about his safety as, well, he's the hero. He's going to be King Arthur by the end of the movie – the title tells us so – and a franchise is planned. Or rather was planned before the movie failed to click in America.
Were the Americans just reacting against yet another Arthur movie, or were they voting against it because it isn't much good. To be honest, King Arthur varies between being quite bad and very bad, lost in a sea of CGI and slow-mo and sped-up shots, as well as submerged by an awful soundtrack that's more a bunch of discordant noises than a score. Guy Ritchie is completely the wrong director for this. He hasn't a subtle bone in his body, no feel for history or romance or folk tales.
The one good thing about it, other than Hunnam, is that it takes you away from your humdrum Brexit-Trump-May world and transports you to another potentially more interesting and exciting one. It really does that, so it's a shame the story and film-making are so feeble, the story shaky and underwhelming, the filming bumpy and over-whelming. It is a scrappy and messy piece of work, whose $175 million cost comes as a shock.
Talking of a story, Ritchie doesn't really seem to have found one to tell. The two hours, six minutes movie is just a series of situations and confrontations, leading to a temporary stop that's supposed to start up again in the sequel. The lack of a satisfying new Arthurian story is a severe drawback to a film that has so many other downsides. To be fair, it is so busy and flashy that is never actually boring, with endless battles and sword fights, and a few assorted monsters.
I hope Hunnam wriggles out from under it, though. He deserves to, he really does. We know he's 'driven', as the film keeps telling us, but he's got to be driven to better stuff.
© Derek Winnert 2017 Movie Review
Check out more reviews on http://derekwinnert.com