Jungle *** (2017, Daniel Radcliffe, Thomas Kretschmann, Alex Russell, Joel Jackson) – Movie Review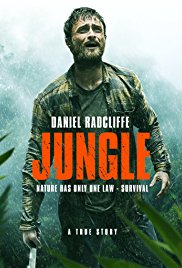 Jungle is exciting, well made and beautifully picturesque. Dan Rad and the other guys good. Can't think why you'd want to carry on up the jungle in real life though!
Director Greg Mclean's action adventure drama movie is nail-bitingly exciting, expertly crafted and beautifully picturesque, with luxurious filming in Australia, Bolivia and Colombia.
Daniel Radcliffe, Alex Russell, and Joel Jackson play three friends who are persuaded to join a charismatic seeming German guide (Thomas Kretschmann) for a risky trek into the Bolivian jungle to search for an Indian village. But little do the men realise just how risky the trek is going to be as a series of real-life horrors unfolds.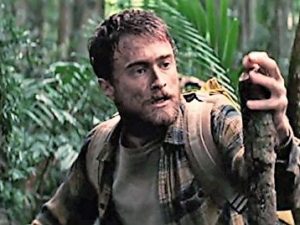 A very grown-up Daniel Radcliffe, as Yossi Ghinsberg, and the other actors are extremely good in a quartet of convincing and involving performances.
Beautiful though it is, it is hard to think why you would want to carry on up the jungle in real life though! The key jungle scenes were filmed at Bonogin Valley in Gold Coast, Queensland, Australia, in April 2016. It was also filmed at Mount Tamborine (in Queensland), Madidi Park in Bolivia, and in Colombia, as well as at the Village Roadshow Studios, Oxenford in Queensland.
Justin Monjo writes a credible screenplay based on Ghinsberg's book of memoirs, Jungle: A Harrowing True Story of Survival.
Weirdly, Radcliffe has previously played another real-life character called Ghinsberg in Kill Your Darlings (2013), Allen Ginsberg.
© Derek Winnert 2017 Movie Review
Check out more reviews on http://derekwinnert.com