Jumanji: Welcome to the Jungle ** (2017, Dwayne Johnson, Jack Black, Kevin Hart, Karen Gillan, Alex Wolff, Nick Jonas) – Movie Review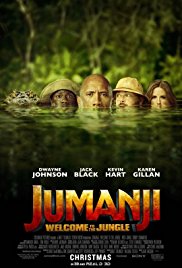 Director Jake Kasdan's harmless but lame, laborious and empty-headed reboot of Jumanji (1995) cost a lot – $90 million – but has taken a fortune – $254 million in the US. It goes for the old downhome fun and friendly tone of the original and misses. Most of all, it misses Robin Williams.
Alex Wolff, Ser'Darius Blain, Madison Iseman and Morgan Turner play high-schoolers in detention who are sucked into a Nineties video game. There they assume new grown-up forms as Dwayne Johnson, Kevin Hart, Jack Black and Karen Gillan and they have to work together and finish the game to escape back to their real lives.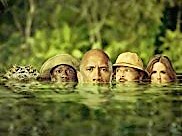 In the jungle they have to contend with bad guy Van Pelt (Bobby Cannavale) and his bad guy bikers, but meet up with handsome young airman Alex (Nick Jonas), who has been stuck in the board game since the mid-Nineties, 1996 apparently, and has only one life left, so he's lost his bravado.
Awkwardly, Iseman's sexy young female character Bethany ends up as over-weight, middle aged guy Black, prompting a lot of very dodgy jokes, all of the same kind, relentlessly hammered home. Dwayne Johnson is not really seen at his best and seems to be going for an easy pay check, though he gets by on his usual cheek and charm. Having both Kevin Hart and Jack Black in the same film is just too much. A miscast Cannavale doesn't score as the villain.
Colin Hanks has an uncredited cameo at the end as adult Alex. It's nice to see him, though he's an improbable choice for Nick Jonas 20 years on.
Chris McKenna wrote the serviceable screen story updating the original, which is commendable as it must have been tricky. But the screenplay by him, Erik Sommers, Scott Rosenberg and Jeff Pinkner is way too broad, and lacks wit and subtlety, though it does provide some amusing gags and situations.
© Derek Winnert 2018 Movie Review
Check out more reviews on http://derekwinnert.com