Julieta ***½ (2016, Emma Suárez, Adriana Ugarte, Michelle Jenner, Rossy de Palma) – Movie Review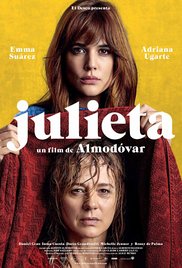 Writer-director Pedro Almodóvar's admirable 2016 film is a polished and provocative melodrama based on three short stories written by the Canadian author and 2013 Nobel laureate, Alice Munro. It is, surprisingly only his 20th movie in a trail that goes back to Pepi, Luci, Bom in 1980.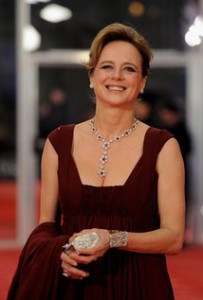 Emma Suárez plays Julieta Arcos, now a middle-aged woman in Madrid on the verge of madness, thanks to several things, revealed in flashback (when she is played by Adriana Ugarte), but mainly to her issues with her daughter, Antia (Priscilla Delgado).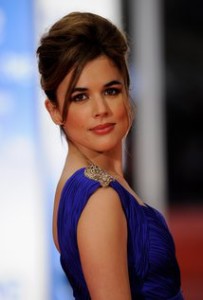 Julieta is going to move to Portugal with her boyfriend Lorenzo (Darío Grandinetti) when she meets Bea (Michelle Jenner), Antia's former best friend, who reveals that Antia is married and living in Switzerland with three children. With her heart broken after 12 years without her daughter, Julieta suddenly cancels the journey to Portugal and she moves to her former building, in the hope that Antia will some day communicate with her.
However, as starts to write in her memoirs, 30 years ago she was enjoying a better time when she met and fell in love with Xoan (Daniel Grao), a Galician fisherman, thuogh her had an ex, Ava (Inma Cuesta), he still likes. 
Also in  the cast are Rossy de Palma, Nathalie Poza, Agustín Almodóvar and Mariam Bachir.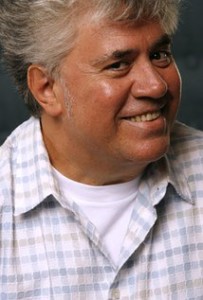 The film remains a shade elusive and just slightly unsatisfying, but the story and characters do involve, Almodóvar's direction is extremely confident and stylish, in the manner of an old master, and the performances of Emma Suárez and Adriana Ugarte are extremely alluring.
It is a serious, rather lovely work to command respect, and it is attractively scored by Alberto Iglesias, and beautifully shot by Jean-Claude Larrieu and designed by Antxón Gómez, turning real locations into what look like Hollywood sets.
The UK release date is 26 August 2016.
© Derek Winnert 2016 Movie Review
Link to Derek Winnert's home page for more reviews: http://derekwinnert.com/