Journeyman *** (2017, Paddy Considine, Jodie Whittaker, Anthony Welsh, Tony Pitts, Paul Popplewell) – Movie Review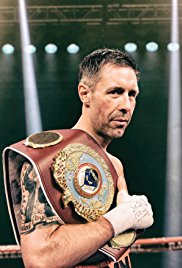 You've got to hand it to Paddy Considine. He is hugely ambitious as writer/ director/ star of this gruelling, hard-hitting medical and personal drama.
Considine stars as ageing world middleweight boxing champion Matty Burton (Paddy Considine), who wins a punishing title defense on points against an aggressive, cocky opponent (Anthony Welsh), gets home OK, but then collapses with brain damage.
Can he ever recover his speech, movement and memory – and the love of his wife Emma (Jodie Whittaker) and baby daughter Mia? He'll probably need the help of his mates (Tony Pitts, Paul Popplewell) if he to survive at all, and they seem to have deserted him, perhaps embarrassed by the wreck of a human being he has become.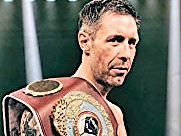 This is a brutal, battering experience, and whatever the outcome of the story, the ending isn't going to change that. My feeling is, after staying tough throughout, it finally bottles out at the end. Does Matty eventually win on points in life too maybe. What point the script is making about boxing is not all clear. It looks presented as a real bad thing, but, by the end, it seems okay again. What is the title supposed to mean? What answers is Considine offering to the characters and situations he so vividly describes?
The acting is excellent, as you'd expect from an actor's movie, and Considine and Whittaker seem entirely credible. Even if he seems a bit too old for the role, Considine makes it work. Pitts and Popplewell are real good, good and real.
It#s not the kind of movie you go to for a cheery night out. Most people will probably want to turn away from it. It was well placed in the London Film Festival and on the awards circuit, where it can pick up some admirers, no doubt.
Anyway, it is a good, worthy film, with plenty of boxing and northern English flavour.
© Derek Winnert 2017 Movie Review
Check out more reviews on http://derekwinnert.com/