Johnny O'Clock **** (1947, Dick Powell, Ellen Drew, Lee J Cobb, Evelyn Keyes, Nina Foch, Thomas Gomez) – Classic Movie Review 5626
Writer-director Robert Rossen's 1947 thriller is a very fine whodunit in the nervy late Forties manner, crammed with shady characters, murky deeds and murkier lighting in Burnett Guffey's quintessentially noir black and white cinematography.
[Spoiler alert] Dick Powell is on top form as Johnny O'Clock, the wise-guy partner at Pete Guido Marchettis (Thomas Gomez)'s New York gambling parlour, mixed up in the murders of a bent cop named Chuck Blayden (Jim Bannon) and a hat-check dame called Harriet Hobson (Nina Foch).
Writer Rossen, in his first film as director, dresses up his conventional but complex and appealing material with considerable style, intelligence and complexity. Evelyn Keyes provides a most effective turn as the murdered woman's sister, Nancy Hobson who sets out to probe Powell's innocence.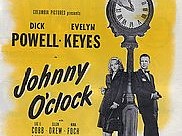 Foch is striking as Harriet, with Ellen Drew and Lee J Cobb also essential main ingredients as Guido's wife Nelle Marchettis, who is having an affair with Johnny, and the investigating copper Inspector Koch.
Also in the cast are John Kellogg, Mabel Paige, Phil Brown, Jeff Chandler, Brooks Benedict, John Berkes, Matty Fain, Virginia Farmer, Paul Bradley, Victoria Faust, George Lloyd, Charles Marsh, Charles Mueller, Charles Wexler, Bill Stubbs, Ralph Volkie, Bill Wallace, Jeffrey Sayre, Sammy Shack, Bob Perry and Charles Perry.
Rossen adapts the story by Milton Holmes.
The completely misleading poster line says: 'Johnny was smart…too smart to tangle with women!'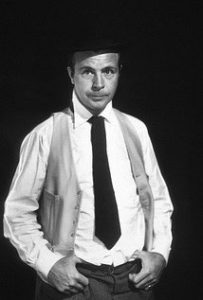 Powell most memorably played Philip Marlowe in Murder, My Sweet (1944).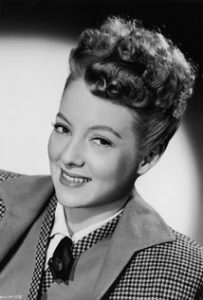 Evelyn Keyes (1916–2008).
© Derek Winnert 2017 Classic Movie Review 5626
Check out more reviews on http://derekwinnert.com