John Wick: Chapter 2 **** (2017, Keanu Reeves, Riccardo Scamarcio, Ian McShane) – Movie Review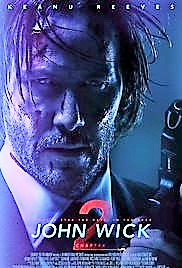 Italian villain Santino D'Antonio (Riccardo Scamarcio) is none too thrilled when retired ex-hitman John Wick (Keanu Reeves) refuses his marker to repay his debt and to make a kill for him. Santino promptly blows up his house to show his irritation. 
And so, prompted by creepy old smoothie Winston (Ian McShane), Wick comes out of retirement and gets back into action to fight a one-man war against the gangsters who don't like him attempting to kill Santino's mob boss sister Gianna (Claudia Gerini) in Rome.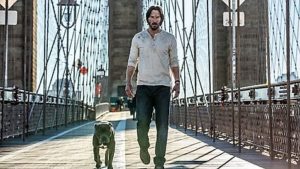 A whole army of villains come after him, notably led by Ares (Ruby Rose) and Cassian (Common), after a large bounty is put on his life. Wick desperately needs someone on his side this time, and turns to Bowery King (Laurence Fishburne). Posh hotel concierge Charon (Lance Reddick) offers to look after Wick's famous, and cute dog. Aurelio (John Leguizamo) briefly looks in to agree to repair Wick's famous car, destroyed in the opening action with Santino's men.
Martial arts stunt co-ordinator Chad Stahelski follows his director debut with 2014's John Wick with more of exactly the same, this time making every second of Chapter 2's still uber tense and taut 120 minutes count. The shootouts, fights, battles etc are awesome, a huge credit to the performers and their stunt persons. Writer Derek Kolstad also returns, and shows he hasn't run out of invention and steam. The gun violence is disreputable, but it is a gangster movie, with bad guys gunning down badder guys. If it was a Western, we wouldn't even remark on it.
It is Reeves's show, and he relishes it, looking like he's doing most of his stunts and fighting. He's great! But and Scamarcio, Fishburne and especially McShane are all excellent, creating memorable characters, enjoying their campy dialogue, with Rose and Common making effective relentlessly pursuing villains, worthy adversaries for the hero.
John Wick will certainly notch up a trilogy and, on this form, will run and run, and gun and gun.
Chapter 2 clearly sets up John Wick: Chapter 3 at the end, and it is already in development.
© Derek Winnert 2017 Movie Review
Check out more reviews on http://derekwinnert.com