Jeremiah Johnson **** (1972, Robert Redford, Will Geer, Allyn Ann McLerie, Josh Albee, Stefan Gierasch, Charles Tyner) – Classic Movie Review 4991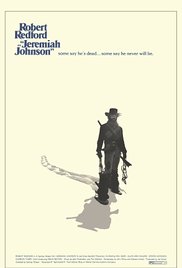 Director Sydney Pollack's manly 1972 mountain man movie is a remarkable outside adventure. It stars Robert Redford as the titular Jeremiah Johnson, who goes from naïve trapper to hardened mountain-dweller and on to legendary status.
Pollack tells his outdoor wilderness survival tale of Utah in the 1850s in a spectacular visually epic way. He relishes his striking location settings in the cinematography of Duke Callaghan, and takes delight in exploring his man-myth main character. Redford provides one of his most genuine and expertly realised performances.
John Milius's and Edward Anhalt's screenplay is full of intriguing offbeat ingredients, like a frozen corpse, a chasing grizzly bear, and Will Geer's grouchy loner character Bear Claw, and it makes appealing grand, romantic gestures.
Also in the cast are Allyn Ann McLerie, Josh Albee, Stefan Gierasch, Charles Tyner, Joachin Martinez, Paul Benedict, Jack Colvin, Matt Clark and Delle Bolton.
It is one of seven movies Pollack and Redford made together, also including This Property Is Condemned, The Way We Were, Seven Days of the Condor, The Electric Horseman, Out of Africa and Havana.
 long version.
Despite persistent bad weather, the production was still brought in on time and on budget.
© Derek Winnert 2017 Classic Movie Review 4991
Check out more reviews on http://derekwinnert.com