Jaws 2 *** (1978, Roy Scheider, Lorraine Gary, Murray Hamilton) – Classic Movie Review 4899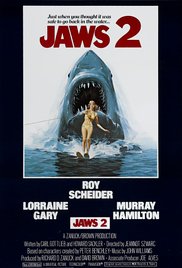 Roy Scheider as Amity police chief Martin Brody, Lorraine Gary as his wife Ellen Brody and Murray Hamilton as wicked mayor Larry Vaughn repeat their roles in Jeannot Szwarc's welcome 1978 sequel to, and simply reprise of, Steven Spielberg's 1975 classic monster movie Jaws.
Written by Carl Gottlieb, Howard Sackler and Dorothy Tristan, the plot is basically the same, in which, four years after the events of the original film, young vacationers in the US West Coast island resort of Amity are enjoy their watersports while a second monstrous hungry shark is looking for his lunch. It is of course again up to the Police Chief to try to save the townsfolk.
Unfortunately there is less bite this time than in the original, there is no sign of Spielberg or his special flair, and the other original co-stars Robert Shaw and Richard Dreyfuss are much missed.
However, Jaws II is still gripping and entertaining in its B-movie horror thriller way, and it builds tension and suspense effectively, and sends out a wave of well-targeted shocks in a decently made movie.
Also in the cast are Joseph Mascolo, Jeffrey Kramer, Collin Wilcox [Paxton], Ann Dusenberry, Mark Gruner, Barry Coe, Susan French, Garry Springer, Donna Wilkes, Gary Dubin, John Dukakis, G Thomas Dunlop, David Elliott, Marc Gilpin, Keith Gordon, Cynthia Grover, Ben Marley, Martha Swatek, Billy Van Zandt, Gigi Vorgan, Jerry M Baxter, Fritzi Jane Courtney, Herb Muller, Coll Red McLean and Cyprian R Dube.
Jaws III [Jaws 3D] followed in 1983 with Jaws: The Revenge [Jaws 4] in 1987.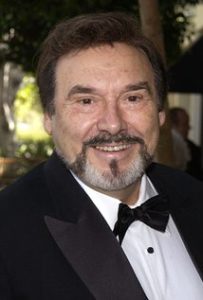 Joseph Mascolo, who plays property developer Peterson in Jaws 2 and played crime lord and patriarch Stefano Dimera on Days of Our Lives starting in 1982, died on 8 aged 87, after a battle with Alzheimer's disease.
© Derek Winnert 2017 Classic Movie Review 4899
Check out more reviews on http://derekwinnert.com