Jassy ***½ (1947, Margaret Lockwood, Patricia Roc, Dennis Price, Basil Sydney, Dermot Walsh) – Classic Movie Review 5424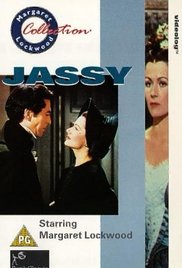 Director Bernard Knowles's 1947 British romance stars Margaret Lockwood, who throws herself eagerly and with gay abandon into the role of the steamy, second-sighted gypsy Jassy Woodroofe, taken in as servant to Nick Helmar (Basil Sydney) and his daughter Dilys (Patricia Roc) in 17th century England.
Jassy marries Helmar and is suspected of killing her husband when he is found poisoned. She has received a mansion as her dowry that Christopher Hatton (Dennis Price) lost to Sydney at the gaming table, and Price's son Barney (Dermot Walsh) wants it back.
This Gainsborough Studios romantic-historical upmarket tosh is luridly entertaining hokum, if a little on the long-seeming side at 102 minutes, with colourful costumes, decent sets, nice bright Technicolor cinematography by Jack Asher and Geoffrey Unsworth and an exceptionally strong, iconic support cast.
With the screenplay by Dorothy Christie, Campbell Christie and Geoffrey Kerr, based on the novel by Norah Lofts, it is well made, exuberantly done and sneakily enjoyable. It is notable as the first Gainsborough Studios film to be shot in colour.
A British DVD is available.
Also in the cast are Nora Swinburne, Linden Travers, Ernest Thesiger, Cathleen Nesbitt, John Laurie, Jean Cadell, Grey Blake, Clive Morton, Torin Thatcher, Beatrice Varley, Maurice Denham, Alan Wheatley, Esma Cannon, Grace Arnold, Bryan Coleman, Eliot Makeham, Joan Haythorne, Hugh Pryse, Muriel George, Dennis Harkin, Noel Howlett, Jane Hylton, David Keir, Charles Rolfe, Stewart Rome, Susan Shaw and Constance Smith.
© Derek Winnert 2017 Classic Movie Review 5424
Check out more reviews on http://derekwinnert.com