James and the Giant Peach **** (1996, Paul Terry, Joanna Lumley, Miriam Margolyes, Pete Postlethwaite) – Classic Movie Review 1651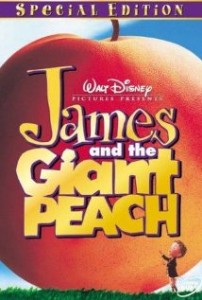 Director Henry Selick's gorgeous 1996 British children's movie stars Paul Terry as the titular James Trotter, a lonely nine-year-old orphan who is given a bag of glowing green seeds and grows a giant peach housing human-sized insects, and then heads off on a dangerous sky journey to New York, the city of his dreams.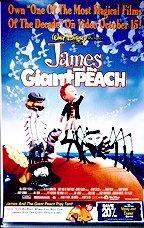 In vocal performances, Richard Dreyfuss (Centipede), Simon Callow (Grasshopper), Jane Leeves (Ladybug), Miriam Margolyes (Glowworm), David Thewlis (Earthworm), and Susan Sarandon (Spider) have a peach of a time in a magical part-animated adaptation of Roald Dahl's kids' classic.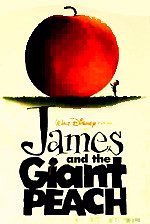 In live action performances opening 20 minutes, Joanna Lumley (Aunt Spiker) and Miriam Margolyes (again – this time as Aunt Sponge) enjoy themselves enormously in outrageous pantomime turns as the greedy aunties James goes to stay with when his parents are horrendously washed away to sea by a giant wave at the start of the story.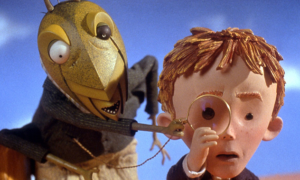 Selick's deftly handled, highly entertaining and quite haunting mix of stop-motion animation and live-action has an endless amount of adult appeal, though its dark tone may disturb some younger kids.
After his disappointment over Willy Wonka and the Chocolate Factory, Roald Dahl wasn't keen on any other film adaptations of his books, but after his death his widow Liccy relented and gave Disney a shot at it.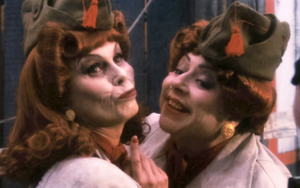 A film of the Roald Dahl classic story Matilda was released the same year, 1996, though Willy Wonka and the Chocolate Factory (1971) and Charlie and the Chocolate Factory (2005) are the most famous films of Dahl's work – at least till Steven Spielberg's The BFG in 2016.
On 27 August 2016 it was announced that Sam Mendes was in early negotiations to direct a new Disney live-action version of James and the Giant Peach with Nick Hornby to write the screenplay.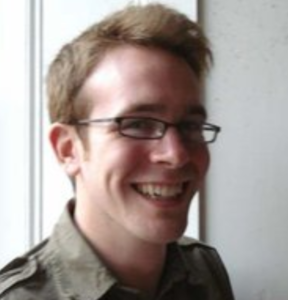 Paul Terry starred in the four seasons of the children's sitcom Microsoap (1998–2000). He became the bassist for the band Glassapple, studied German and Mechanical Engineering at Cardiff University and is now a maths teacher at Consett Academy and has now joined a new band.
http://derekwinnert.com/willy-wonka-and-the-chocolate-factory-gene-wilder-peter-ostrum-jack-albertson-roy-kinnear-aubrey-woods-classic-movie-review-1612/
http://derekwinnert.com/charlie-and-the-chocolate-factory-2005-johnny-depp-freddie-highmore-classic-movie-review-1613/
© Derek Winnert 2014 Classic Movie Review 1651
Check out more reviews on http://derekwinnert.com/