Jack Reacher: Never Go Back **½ (2016, Tom Cruise, Cobie Smulders, Aldis Hodge, Danika Yarosh) – Movie Review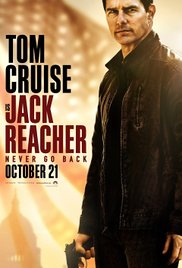 Back comes Tom Cruise, the 5'7" impersonator of novelist Lee Child's original 6'5" Jack Reacher, a drifter with extreme combat and investigation skills, in this entirely acceptable, but not particularly distinguished time-passing sequel to Paramount's moderately successful 2012 Jack Reacher.
Rather than a sequel, it is a kind of reboot, otherwise ditching the original cast and crew. It is like the first film never existed. It wants to be a blockbuster but it plays like a B movie with an A movie star and budget. The movie is held back with a mundane conspiracy plot no better than in a TV show, but to balance that it comes complete with plenty of basic fights and speedy action. And, well, that's OK, good enough.
Edward Zwick, maker of Cruise's classy 2003 The Last Samurai, directs Richard Wenk's screenplay, re-written by Zwick and Marshall Herskovitz. The sequel is based on Lee Child's book Never Go Back, oddly enough, in which cold-hearted ex-military hero Reacher comes to the aid of his old CO at the US Army Military Police Corps HQ, Major Turner (Cobie Smulders), who has been arrested, charged with espionage and thrown in jail.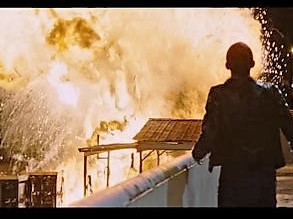 Hampered by looking grim all the time, once again Cruise isn't bad, but then he isn't really very good either. However, this time he plays to one of his main strengths by running about a lot – and the chases and fights are pretty good, without being totally memorable. The characterful locations for the endless chases provide good backdrops, giving the film a visual and atmosphere boost.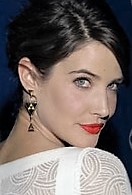 Cruise gets one single co-star this time, and Cobie Smulders impresses as tough-as-nails military woman Susan Turner, forming a strong partnership with Cruise. She is the movie's second most essential ingredient as Reacher frees Turner and goes on the run with her to uncover the truth behind a major government conspiracy and clear his name. The Turner character is a bit one note but it is quite strong none the less in Smulders's hands.
Zwick turns in a very slick and smartly made movie, with a hard edge and tough action, and a bit of humanising with a protect a daughter scenario in the footsteps of Taken as Reacher grapples with a quasi nuclear family, dumped into possible fatherhood when a prostitute introduces him to Samantha, who is supposedly his 15-year-old daughter (Danika Yarosh). The problem here is that assuming the father figure role takes Reacher even further from his core character, though it might prove popular box office.
Cruise is looking for a franchise to replace Mission Impossible, but I still don't think this is quite it. I'm guessing though that they'll go for the trilogy, and the question is, will Cruise bring Smulders and Yarosh along with him for part three?
© Derek Winnert 2016 Movie Review
Check out more reviews on http://derekwinnert.com