It's the Rage [All the Rage] *** (2000, Jeff Daniels, Joan Allen, David Schwimmer, Robert Forster, Anna Paquin, Josh Brolin, Gary Sinise) – Classic Movie Review 5357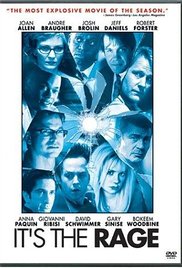 Jeff Daniels stars as Warren Harding who shoots his wife Helen (Joan Allen)'s lover dead in a rage, and later claims that he thought he was killing an intruder to get himself off the hook.
Some shaky and predictable scripting by Keith Reddin harms director James D Stern's taut but familiar 2000 black comedy thriller. However, the new spin is that the lives of nine people intertwine in a multi-drama focusing on handguns. Boldly, the movie tries to deal with the deadly earnest issue of gun culture in a darkly comedic way, raising the issues and laughs too.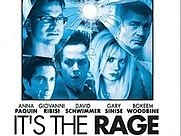 That is good, and there are some tense scenes, and there is also rock-solid acting work from a notable cast, especially Allen, Daniels, David Schwimmer, Robert Forster, Anna Paquin, Josh Brolin, and Gary Sinise.
Also in the cast are André Braugher, Bokeem Woodbine, Anna Paquin, Wayne Morse, Josh Brolin, Gary Sinise, January Jones, Deborah Offner, Barb Wallace, Kevin Crowley, Robert Peters, Alex Watson, Giovanni Ribisi, Muse Watson, Dan Anders, Dan Petterson and Lynne Oropeza.
It is worth while for the cast, the dark humour and its good intentions.
There is some violence and strong language.
It is also known as All the Rage.
© Derek Winnert 2016 Classic Movie Review 5357
Check out more reviews on http://derekwinnert.com