It [Stephen King's It] *** (1990, Tim Curry, John Ritter, Richard Thomas, Annette O'Toole, Harry Anderson, Dennis Christopher, Olivia Hussey, Richard Masur, Tim Reid) – Classic Movie Review 5228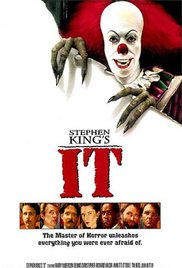 Director Tommy Lee Wallace's eerie and effective 1990 two-part TV mini-series fantasy horror thriller stars Tim Curry, John Ritter, Richard Thomas and Annette O'Toole, who give excellent performances in this adaptation of Stephen King's best-selling 1986 novel's tale of shape-shifting terror that eerily embodies a murderous dancing clown called Pennywise (Curry) out to kill children.
John Ritter (as Ben Hanscom), Richard Thomas (as Bill Denbrough), Annette O'Toole (as Beverly Marsh), Harry Anderson (as Richie Tozier), Dennis Christopher (as Eddie Kaspbrak), Richard Masur (as Stanley Uris) and Tim Reid (as Mike Hanlon) play a group of seven people in Sixties Maine who band together to fulfill their pledge to battle the demon that first terrorised them 30 years earlier when they were 12 back in 1960.
But it is rightly Curry's film, and he is outstanding in a well-regarded creepy, scary and realistic performance as Pennywise.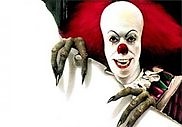 Jonathan Brandis (as Bill Denbrough), Brandon Crane (as Ben Hanscom), Adam Faraizl, (as Eddie Kaspbrak), Seth Green (as Richie Tozier), Ben Heller (as Stanley Uris), Emily Perkins (as Beverly Marsh) and Marlon Taylor (as Mike Hanlon) play the 12-year-old versions of the characters, who take on the demonic clown as kids in the first half of the film.
Also in the cast are Michael Cole, Sheila Moore, Jared Blancard, Florence Patterson, Drum Garrett, Chris Eastman, Tony Dakota and Chelan Simmons.
A strong visual style, some very creepy moments and an effective use of the smart special effects ensure that It is a horror hit.
The video/ DVD version at 187 minutes is an effective, slight cut-down of the two-part TV movie running 192 minutes.
Child star Jonathan Brandis committed suicide on 12 November 2003, aged 27. John Ritter suffered an unexpected, fatal aortic dissection in 2003.
In 2017, a cinema remake is in the works with Bill Skarsgård starring as Pennywise in It (2017) for release on 8 September 2017 in the US. Skarsgård says: 'Tim Curry's performance was truly great, but it's important for me to do something different because of that. I'll never be able to make a Tim Curry performance as good as Tim Curry.'
Tragically, in June 2012, Tim Curry suffered a major stroke and now uses a wheelchair. He first rose to fame as Dr Frank-N-Furter in The Rocky Horror Picture Show (1975), reprising his 1973 London and 1974 Los Angeles stage role in The Rocky Horror Show.
© Derek Winnert 2017 Classic Movie Review 5228
Check out more reviews on http://derekwinnert.com