Island of Desire [Saturday Island] ** (1952, Linda Darnell, Tab Hunter, Donald Gray) – Classic Movie Review 5907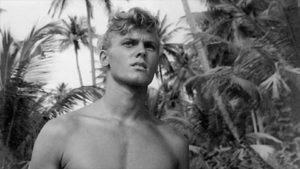 In World War Two, US Military hospital-ship Lieutenant Elizabeth Smythe (Linda Darnell) and US marine Corporal Michael J 'Chicken' Dugan (Tab Hunter) find their wartime hospital boat hits a mine in the South Pacific.
But they are swept as sole survivors on to a desert island, where they find romance when they spend months alone, and then drama when they are joined by RAF flier William Peck (Donald Gray), the only crash survivor of a plane shot down near by the island. He also also falls for Elizabeth.
Nurse Elizabeth has to amputate the arm of Peck (in real life Gray lost his arm in wartime fighting), and a complicated, troublesome three-way situation arises.
Based on the Saturday Evening Post story Saturday Island by Hugh Brooke, co-writer/ director Stuart Heisler's largely unbelievable, talky wartime romantic adventure yarn is very modestly performed, apart from by Darnell, who is surprisingly good as Lieutenant Elizabeth Smythe.
The lovely Technicolor photography by Oswald Morris and Arthur Ibbetson is the film's other main saving grace. And the 21-year-old Hunter is sweet and appealing in only his second film as Marine Corporal Michael J 'Chicken' Dugan.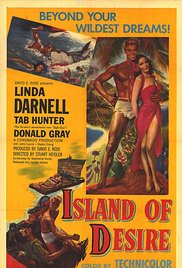 There is also a nice, mainly British, support cast – John Laurie, Peter Butterworth, Harold Ayer, Sheila Chong, Diana Decker, Hilda Fenemore, Peggy Hassard, Brenda Hogan, Lloyd Lamble, Michael Newell, MacDonald Parke, Russell Waters, John Benham and Katherine Blake.
It was shot at Ocho Rios, St Ann, Jamaica, and in the UK studio for interiors and special effects at Walton-on-Thames, Surrey, England.
Gray also played the popular one-armed detective, Mark Saber, on British TV in the Fifties (1955 to 1960).
© Derek Winnert 2017 Classic Movie Review 5907
Check out more reviews on http://derekwinnert.com