Invisible Invaders ** (1959, John Agar, Jean Byron, Robert Hutton, Philip Tonge, John Carradine) – Classic Movie Review 5301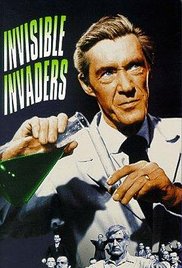 Scientists battle the clock to prevent the alien Invisible Invaders from the Moon taking over the bodies of the human dead to invade Earthlings in director Edward L Cahn's mostly tatty and largely tedious 1959 sci-fi horror outing with more laughs than chills.
John Carradine plays Dr Karol Noymann, who rises from the dead to lead the marauding corpses, wreaking nasty havoc, until scientist Dr Adam Penner (Philip Tonge), his daughter Phyllis (Jean Byron), no-nonsense army Major Bruce Jay (John Agar) and squeamish scientist Dr John Lamont (Robert Hutton) find a way to save the world.
The aliens contact Penner with their threat to annihilate humanity, so the quartet of good guys are locked in a lab to try to find the aliens' weakness, but are attacked by the aliens the bodies of the newly dead.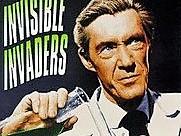 The set-up is good, and Agar, Tonge and Carradine are effective. It is just the cheapness of the production and the lack of imagination in the direction that hold it down to earth.
Also in the cast are Hal Torey, Paul Langton, Eden Hartford, Jack Kenney, George Bruggeman and Don Kennedy.
It is produced by Premium, written by Samuel Newman, shot in black and white by Maury Gertsman, produced by Robert E Kent, scored by Paul Dunlap, set designed by William Glasgow, and with special effects by Roger George.
Newman re-used the name Dr Karol Noyman from The Giant Claw (1957).
© Derek Winnert 2017 Classic Movie Review 5301
Check out more reviews on http://derekwinnert.com