Invictus **** (2009, Morgan Freeman, Matt Damon, Tony Kgoroge) – Classic Movie Review 4316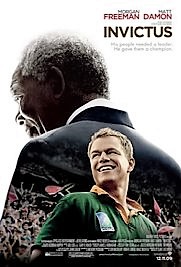 There were two Oscar nominations and three Golden Globe nominations – but no wins – for director Clint Eastwood's sterling 2009 biopic. Well, you can't win every time, though the odd nod in the right direction would have been good.
Naturally, Morgan Freeman was born to play Nelson Mandela, who we first find taking over as the new South African President in May 1994. Unexpectedly, he wants to steer a course of harmony in the apartheid-torn nation and sees a major chance to promote this by calling in Francois Pienaar (Matt Damon), the captain of the almost entirely white Springboks national rugby union team and getting his support to whip the team into shape to win the 1995 Rugby World Cup. Unfortunately, they are up against the juggernaut of the New Zealand All Blacks…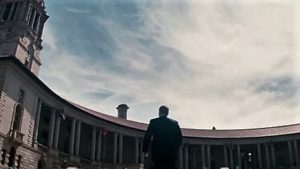 Via a side trip to the tiny spartan cell where Mandela was held for so long, the film culminates in the nail-biting battle that was the 1995 Rugby World Cup Final at Johannesburg's Ellis Park Stadium. Admittedly, rugby and politics aren't everyone's cup of tea, but this is a very worthwhile movie, and Eastwood rivets your attention in both topics.
Though he doesn't try to impersonate the great man, Freeman is of course perfect – he is Nelson Mandela, for heaven's sake! And Damon proves a fit, strong player too, both in his electric drama scenes with Freeman and in training, in the changing room and on the field.
Invictus is an important, uplifting story, well told. If it seems an old-fashioned film, that is a virtue and a good thing here.
Anthony Peckham's screenplay is based on John Carlin's book.
© Derek Winnert 2016 Classic Movie Review 4316
Check out more reviews on http://derekwinnert.com