Invasion of the Saucer Men [Invasion of the Hell Creatures] ** (1957, Steven Terrell, Gloria Castillo, Frank Gorshin, Raymond Hatton, Ed Nelson, Lyn Osborn, Russ Bender) – Classic Movie Review 3759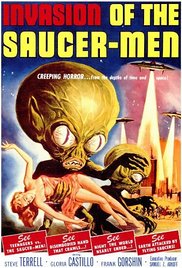 Joan: 'I expected to be frightened on my wedding night, but nothing like this.'
Director Edward L Cahn's no-budget 1957 US sci-fi thriller movie has some irresistible choice ingredients on offer: tiny aliens with giant heads and exposed brains, kids driven mad with extra-terrestrials' alcohol injections and a dead creature in a refrigerator.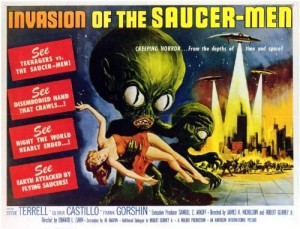 It all starts when a couple of American teenagers, Johnny and Joan (Steven Terrell, Gloria Castillo), making love in the woods accidentally run over an alien creature with their car. The creature's hand falls off, but it comes alive, and begins to stalk the teens.

Of course it is all intended to be deadly earnest and serious but the movie ends up too funny not to be called a comedy, though it was X rated in its day. Never mind, whichever way you look at it, it is a lot of amusing campy fun, especially for the alien creatures, with their hideous looking bulbous heads.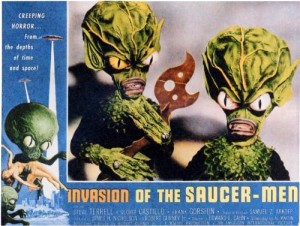 Frank Gorshin plays town drunk Joe Gruen, who plans to wants to store the alien in his fridge. It also stars Raymond Hatton, Ed Nelson and Lyn Osborn. Also in the cast is Russ Bender, Douglas Henderson, Sam Buffington, Jason Johnson and Don Shelton.
It runs 69 minutes, and was made by Malibu Productions, released by American International Pictures, written by Robert Gurney Jnr and Al Martin, shot in black and white by Frederick E West, produced by James H Nicholson and Robert Gurney Jnr and scored by Ronald Stein.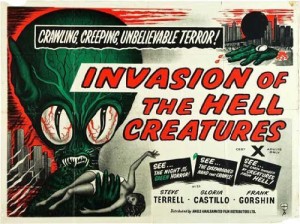 The monsters are created by the legendary Paul Blaisdell, who also created the flying saucer that was later re-used in the opening scene of The Outer Limits: Controlled Experiment (1964) and designed the iconic Tabanga monster for From Hell It Came (1957). He is also known for his work on The She-Creature, Not of This Earth (1957) and It! The Terror from Beyond Space.
American International Pictures released it in a double bill with I Was a Teenage Werewolf (1957), advertising: 'We DARE You To See The Most Amazing Pictures of Our Time!'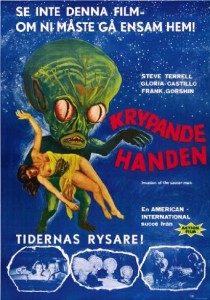 It was remade in 1965 as the much more terrible The Eye Creatures [Attack of the Eye Creatures], with exactly the same plot and much of the same dialogue.
Morbo in the animated series Futurama is modelled on the aliens in this movie.
© Derek Winnert 2016 Classic Movie Review 3759
Check out more reviews on http://derekwinnert.com