Interview with the Vampire: The Vampire Chronicles ***** (1994, Brad Pitt, Tom Cruise, Antonio Banderas, Christian Slater, Stephen Rea, Kirsten Dunst, Thandie Newton) – Classic Movie Review 88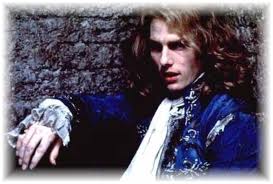 Director Neil Jordan's commanding, all-embracing 1994 romantic vampire movie, based on Anne Rice's 1976 bestselling novel, is a dark, swirling homoerotic meditation on love, death and the hereafter. Along with Dracula (1931, 1958, 1992), it stakes its claim to being the ultimate vampire movie.
At his most alluring, Brad Pitt steals the show as the dashing, handsome vampire Louis de Pointe du Lac, who decides to tell his story to young reporter Daniel Malloy (played by Christian Slater) in late 20th-century San Francisco.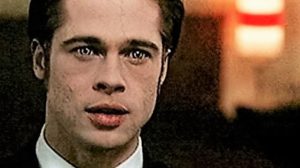 Louis tells of how, in the torpid heat of late 18th-century New Orleans, he first met the timeless, ageless, remorseless vampire Lestat (Tom Cruise) who flows through the years on a river of blood to sustain his existence, and can award his victims immortality whether they want it or not. Louis, by then mortal and devastated by the death of his wife and infant daughter, is chosen by Cruise for the love bite of immortality.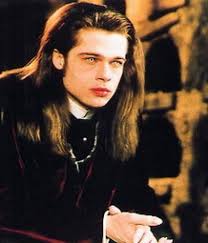 Louis tries to do away with Lestat, and later wanders the globe, arriving in Paris, where he meets Armand (Antonio Banderas), the leader of a company of vampires who run a theatre pretending to be mortals acting as vampires. In another unrequited relationship, Banderas's Armand is also fascinated by Pitt's Louis.
Cast against type, and a far from obvious choice as Lestat, Cruise is surprisingly effective in a full-blooded, luxurious performance, one of his best. It's a shame he didn't go on to make any sequels.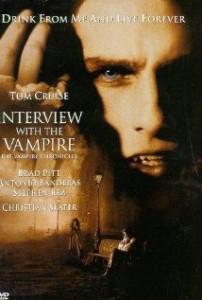 It also stars Stephen Rea as Santiago, Kirsten Dunst as Claudia, and Thandie Newton as Yvette, and also in the cast are Indra Ové, Helen McCrory, George Kelly, Marcel Iureş, Domiziana Giordano as as Madeleine and Sara Stockbridge as Estelle.
A fascinating sequel, Queen of the Damned, was made in 2002 in a different style and with a different cast (Stuart Townsend as Lestat).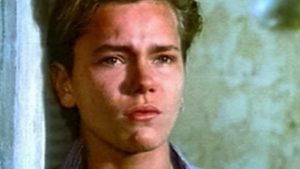 Slater inherited the part of the interviewing reporter Daniel Malloy after the death of originally cast River Phoenix, victim of a drugs overdose, aged 23. Slater gave his entire $250,000 pay cheque to two of Phoenix's favourite charities: Earth Save and Earth. Phoenix was to have begun filming two weeks after his death outside The Viper Room on Sunset Strip in Los Angeles, on 31 October 1993. Every year on Halloween October 31, fans pay tribute to him, often mentioning his famous quote: 'Acting is like a Halloween mask that you put on.'
Having Rutger Hauer in mind when she wrote her 1976 novel, Rice initially vehemently disapproved of Cruise's casting, saying he was totally miscast and wrong for the role. But she eventually wrote a letter to all film critics explaining her abrupt change of mind and put adverts in US publications graciously and fulsomely approving of both Cruise's performance and the film, calling it a 'masterpiece'.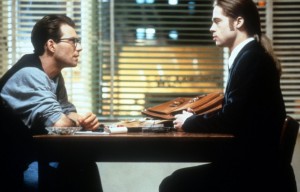 The screen credit is 'screenplay by Anne Rice based on her novel', but Jordan did much work on the screenplay, and had final cut of the film, so it can be considered mainly his work. Rice based Lestat on her husband and Louis on herself. She wrote the novel as a way of helping her grieving for her daughter Michelle.
Allegedly, all actors playing vampires hung upside down for half and hour before make-up was applied. Cruise's took three and a half hours each day.
© Derek Winnert 2013 Classic Movie Review 88
Check out more film reviews on derekwinnert.com