International Velvet *** (1978, Tatum O'Neal, Christopher Plummer, Anthony Hopkins, Nanette Newman, Peter Barkworth, Dinsdale Landen, Sarah Bullen, Richard Warwick, Jeffrey Byron) – Classic Movie Review 2433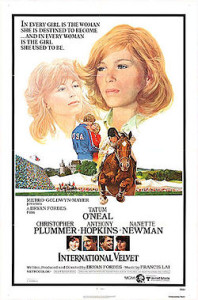 Writer-director Bryan Forbes's belated, though still welcome 1978 children's movie is the sequel to National Velvet (1944) and based on the original 1935 novel by Enid Bagnold. It is, in the words of the title of Forbes's 1983 film, better late than never [Better Late Than Never].
The 14-year-old Tatum O'Neal stars as Arizona girl Sarah Brown who is orphaned after her parents are killed in a car crash. She is sent to England to live with her aunt Velvet Brown.
Forbes's wife Nanette Newman plays Velvet, who is now grown-up, lives with her boyfriend John Seaton (Christopher Plummer) and starts to coach her troubled  niece Sarah as an Olympic horse rider to follow her dream of Olympic glory with her horse Arizona Pie, the son of Velvet's Grand National winning steed The Pie.
Sarah shows enough talent to be selected for the British Olympic team, where she does well under the stern guidance of the trainer Captain Johnson (Anthony Hopkins).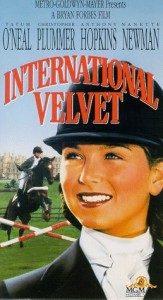 At 127 minutes, the movie is overlong, but it's enjoyable, handsomely made and well acted, with good performances and particularly a standout turn from Hopkins.
Also in the cast are Peter Barkworth, Dinsdale Landen, Sarah Bullen, Richard Warwick, Jeffrey Byron, Daniel Albineri, Jason White, Martin Neil, Douglas Reith and Norman Wooland (as the team doctor) in his last credited role in a feature.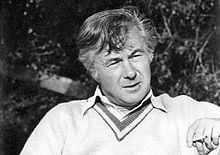 Forbes cast his wife Newman after a number of actresses had passed on the role, including Elizabeth Taylor, whom the producers sought to reprise her 1944 role as Velvet Brown, and Julie Andrews.
It was partly filmed at Birmingham University, England. Many of those playing the Olympic judges were actually the coach drivers who had to ferry the actors to and from their hotel.
Bryan Forbes (22 July 1926 – 8 May 2013) is best known as the director of Whistle Down the Wind (1961), Séance on a Wet Afternoon (1964), King Rat (1965) and The Stepford Wives (1974).
© Derek Winnert 2015 Classic Movie Review 2433
Check out more reviews on http://derekwinnert.com