Insidious: Chapter 2 *** (2013, Patrick Wilson, Rose Byrne, Barbara Hershey) – Movie Review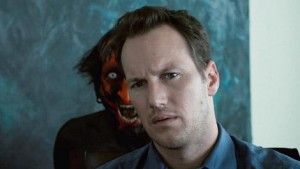 Want a goodish dark and stormy night movie? So get on down to the multiplex for this fairly decent spooky chiller, made with plenty of style, glossy and polish by the director (James Wan) and star (Patrick Wilson) of The Conjuring.
Picking up where the 2010 original left off, Insidious 2 relocates married couple Josh and Renai Lambert (Patrick Wilson, Rose Byrne)  and their kids Dalton and Foster (Ty Simkins, Andrew Astor) to the house of Josh's mother Lorraine (Barbara Hershey). And, what do you know, all the spooky noises and ghostly apparitions start up again.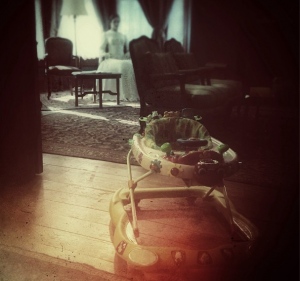 It maybe doesn't make a lot of sense, but it keeps going very nicely and, though a shade overlong, at 105 minutes, it doesn't outstay its welcome. Leigh Whannell, the writer (along with Wan) more or less repeats Chapter 1 but makes it seem like it's the first time he's telling the story. That's a god trick if you can pull it off, which he more or less does here.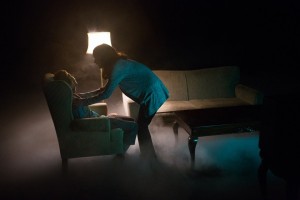 But try this out for sense then. It seems that Josh has returned from a demonic parallel universe called The Further. Who exactly called it that? Was there a sign at the gate when he arrived? Well, anyway, then of course brought something back with him that isn't just a nice airport souvenir…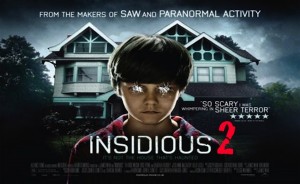 There's a long chain of relentless, well-orchestrated, nicely-paced shocks in this movie that will keep you jumping throughout. What more do you want? Smart direction and decent writing. Tick those boxes. Both take care of. And then posh acting, that's what I want, and we certainly get it again with Wilson, Byrne and Hershey.
They really give it some wellie and seem to believe every word of it. The only way to go. Hershey really looks and seems haunted.  I hope they're all getting paid well for the sequel because they really deserve it.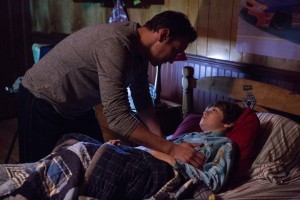 It always pays off to have classy actors in a horror movie, as long as the actors don't suggest the idea that they're slumming. There's not a hint of that here. The star trio are well up for it. Wan says this is his last horror movie. (His next is Fast and Furious 7). I really hope he'll return the favour and carry on employing these actors.
Leigh Whannell and Angus Simpson provide the likeable, easy-going cynical laughs again as the welcome comedy relief, the ghost hunters Specs and Tucker. As before, this comedy relief is very well judged and breaks the tension briefly so that the scares when they start again are sharper and just scarier. Otherwise the film is just one unremitting long rollercoaster scare ride.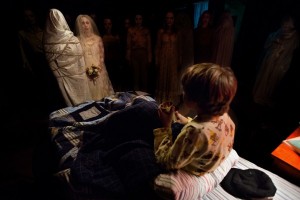 It's not quite as effective as The Conjuring, but it is as good as part 1, and it's brilliant they've found more fresh-seeming material to do a Chapter 2. I'm up for Chapter 3 if they can do it this well.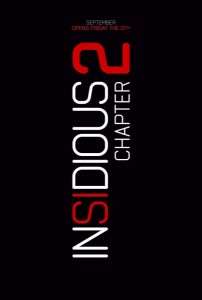 Malaysian-born Wan ('I'm really a squeamish guy') was brought up in  Melbourne, where he went to film school and met his friend Whannell. 'We think craft is important. You can't scare people if they see the seams.' Too right!
Did I say they made Saw in 2004? Well they did.
© Derek Winnert 2014 Movie Review
Check out more reviews on http://derekwinnert.com/