Innocent Blood ** (1992, Anne Parillaud, Anthony LaPaglia, Robert Loggia) – Classic Movie Review 6029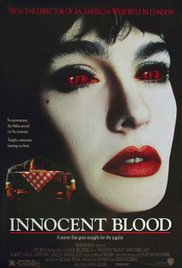 Director John Landis revisits with considerably less effect the territory he covered so successfully with his 1981 classic An American Werewolf in London for this disappointing if passable 1992 vampire horror thriller.
The mix of fantasy, realism, black comedy and romance is more or less the same. But the passing of a decade or so since American Werewolf has made Landis more outlandish and less subtle. And he has lost sight of the humanity and small moments in showing off his confidence to make the big brush strokes.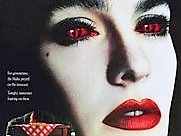 Anne Parillaud (French star of Nikita, in her US début) plays Marie, a French vampire in Pittsburgh who fancies cop Joe Gennaro (Anthony LaPaglia), so she doesn't suck his blood, but hates violent Mafioso Sallie (The Shark) Macelli (Robert Loggia), so she does suck his blood. But she leaves him undead. So Sallie then goes on the rampage, chased by Marie and Joe Gennaro, now her lover.
There are some good special effects and stunts, and the odd powerful moment simply because the movie is grisly, gory or gross. But the humour in Michael Wolk's screenplay is tentative and sketchy, as knockabout humour and nastiness are substituted for wit and funny lines. And it is violent and foul-mouthed without being exciting or funny.
The movie is very nicely played though by the good cast, who also include Don Rickles, David Proval, Chazz Palminteri, Rocco Siusto, Tony Sirico, Tony Lip, Kim Coates, Angela Bassett, Luis Guzman, Leo Burmester, and Linea Quigley, as well as appearances by the film directors Frank Oz, Dario Argento, Michael Ritchie and Sam Raimi.
© Derek Winnert 2017 Classic Movie Review 6029
Check out more reviews on http://derekwinnert.com