Ingrid Goes West ** (2017, Aubrey Plaza, Elizabeth Olsen, O'Shea Jackson Jr, Wyatt Russell, Billy Magnussen) – Movie Review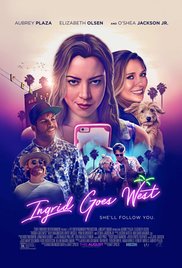 Aubrey Plaza stars as a lonely, deranged social media stalker Ingrid Thorburn, who moves to LA to insinuate herself into the life of a self-propelled, self-satisfied Instagram star, Taylor Sloane (Elizabeth Olsen).
Ingrid takes a shine to her new landlord Dan Pinto (O'Shea Jackson Jr), and he sees the essential goodness in her infuriatingly quirky, actually certifiably unhinged self, which is pretty lucky and convenient for the characters and especially the cheesy wrap-up of the story. The film's main problem is that co-writer/ director Matt Spicer (in his feature debut) thinks that his anti-heroine is actually somehow loveable when in fact it is real hard to sympathise with her and real easy to dislike her. Yes she really is conniving and vindictive, not at all cool and cute. And if you are not on side, the film doesn't work.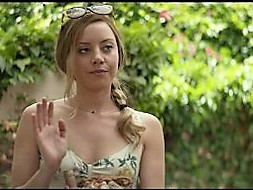 This is not a reproach to Plaza. She plays the character very well indeed. You'd run a mile from Plaza's Ingrid, and never invite her into your home, even if she did turn up with your beloved pet dog.
Taylor is married to deadbeat, untalented, would-be artist Ezra (Wyatt Russell), but into the temporarily happy threesome, comes Taylor's drug-taking, deadbeat, untalented, would-be human being brother Nicky (Billy Magnussen).
Ingrid is essentially the female version of Tom Ripley in The Talented Mr Ripley, and this is a kind of Ripley ripoff, admittedly heavily disguised. Just think of Plaza as Matt Damon, Olsen as Jude Law and Nicky as Philip Seymour Hoffman. Maybe Ingrid Goes West would have been better as a thriller than as a comedy drama.
Relatively short and fast-moving though it is, it still outstays its tentative welcome. There are some amusing lines and situations, but it is a long way short of a laugh riot.
Jackson Jr looks remarkably like a young Ice Cube, except a lot cheerier, which is odd because he is is the son of rapper Ice Cube. Indeed, his only previous role was playing Ice Cube. in Straight Outta Compton (2015). Though his role is written a a sidekick cypher, Jackson Jr makes Dan into by far the most appealing, amusing and sympathetic of any of the characters.
To be fair, there was a lot of laughter around me in the cinema, often at things that didn't seem in the ballpark of funny. It's a bit of a chick flick, with a pseudo romance between the two women a big feature. Olsen is well cast, attractive in every way. The three women behind me seemed to be having a ball, but then so were the two blokes on either side of me.
Spicer and David Branson Smith won the Waldo Salt Screenwriting Award at the Sundance Film Festival 2017. It's a film festival kind of movie, a laughter-raiser where laughs are in short supply.
© Derek Winnert 2017 Movie Review 
Check out more reviews on http://derekwinnert.com