Independence Day: Resurgence *** (2016, Liam Hemsworth, Jeff Goldblum, Bill Pullman, Judd Hirsch, Brent Spiner, William Fichtner, Sela Ward, Charlotte Gainsbourg, Maika Monroe) – Movie Review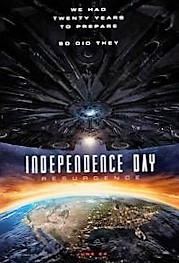 The nations of Earth are at peace and, using recovered alien technology, have collaborated on an immense defence programme to protect the planet. So that's nice. But, 20 years on from the extremely enjoyable and durable (and of course cheesy and jingoistic) Independence Day (1996), the aliens are back to attack with an even bigger mothership and even greater venom. So good!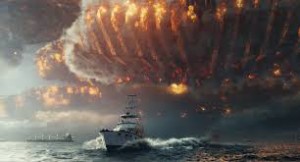 Alas, in Roland Emmerich's 2016 sequel, there is no sign of Will Smith, except for portraits and photos. But happily Jeff Goldblum and Judd Hirsch return as the son and father Levinsons, Bill Pullman is back as ex-President Whitmore and Star Trek's Brent Spiner is again the eccentric Dr Okun. All four prove very good value indeed, brightening up the dark and earnest alien invasion scenario with some sprightly comedy survival stuff and their attractively quirky characterisations. They give what could be a soulless blockbuster what it sorely needs – humanity and character.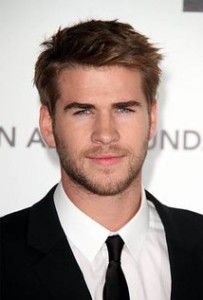 But Liam Hemsworth is top billed as alien fighter Jake Morrison, with Jessie T Usher as Dylan Hiller, the son of Will Smith's character from 1996. Looking and acting heroic, they do what they can with their thin material, but that isn't too much, though they are pleasant enough company. Likeable though he is, Hemsworth can't reach the places Smith filled in the first movie, but then it isn't fair to expect him to.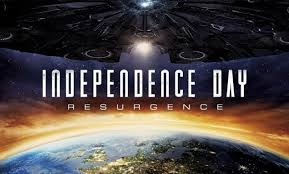 However, William Fichtner puts a bit of serious authority onto proceedings as General Adams and Sela Ward is solid as President Lanford until her role suddenly stalls. But Charlotte Gainsbourg makes no headway at all as French scientist Catherine Marceaux and Maika Monroe (controversially replacing Mae Whitman) doesn't do enough to shine as Whitmore's daughter Patricia, who worries about dad and has the hots for Hemsworth. Admittedly, the women's roles are poor, so you can't blame the actresses either.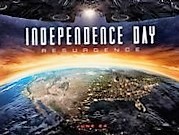 With mostly very slick CGI, the special effects are eye-boggling, with the 3D working to its advantage, and some of the alien-butt kicking action is tremendous. But the story arc is confused and confusing, making it hard to know what is going on a lot of the time, certainly hard to get involved with Earth's heroes like we did back in 1996. The film lacks a vice-like grip and narrative coherence. Not that it matters. It's all about mayhem, and there's plenty of that, and that's satisfying enough.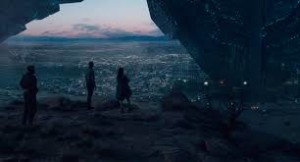 The under-two-hour running time feels like a harshly edited cut-down of a much longer, more satisfying movie, as we jump about nervously from place to place so that no one has time to get bored. So we await the Director's Cut. More plotting, more clarity, more character development, more cheesy dialogue, more jingoistic nonsense, just more would be better. But it's entertaining enough, not the flop that was feared.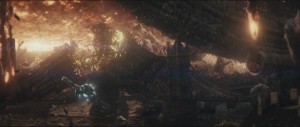 In the current popular, lazy way, it ends up trailing Independence Day 3, which is in development. But, with this one costing a scary $200 million, we shall have to wait and see.
Will Smith was offered to reprise his role as Captain Steven Hiller but negotiations broke down. He has expressed his regret in not taking part in the sequel, saying it would be very hard for him to watch.
© Derek Winnert 2016 Movie Review
Check out more reviews on http://derekwinnert.com