In the Name of *** (2013, Andrzej Chyra, Mateusz Kosciukiewicz, Maja Ostaszewska, Lukasz Simlat, Tomasz Schuchardt, Maria Maj) – Movie Review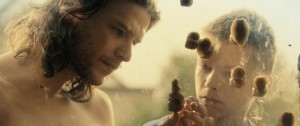 Malgorzata Szumowska, the Polish director of Elles (2011) starring Juliette Binoche and 33 Scenes from Life (2008), boldly goes and confidently tackles a very tricky, long taboo topic with the surprisingly unsettling and subtle In the Name of. She has got something on her mind and wants to share to with you. And that's her challenge to the Catholic Church to embrace its many gay priests.
It is the story of a passably handsome, mildly charismatic middle-ageing Catholic priest Adam (Andrzej Chyra), who is sent from Warsaw to a Polish rural small town in the middle of nowhere. There his task is to look after some rumbustious, disadvantaged older teenage boys who have troubled backgrounds.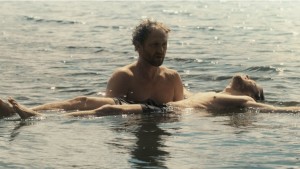 Most of the boys are difficult and hard to control and there's a lot of larking around. Quite a lot of testosterone, as you'd expect. In most ways a good priest, Adam makes a conscientious job of his work. But one of the boys, Lucasz (Mateusz Kosciukiewicz), is sensitive and attractive, and appeals to the priest for help and eventually kind of comes on to the priest. Father Adam is in need of love and, though he spends most of the film resisting the temptation, he's fairly obviously going to give in eventually.
This doesn't please the local teacher, Michal (Lucasz Simlat), or a lonely, love-starved local woman, Ewa (Maja Ostaszewska), whose come-on to the priest is a whole lot less subtle, and appealing, than Lucasz's. Michal, who seems to be in some way jealous, complains to the bishop, who feels that in this case it's best to do nothing very much. The Church isn't in the buisness of stirring up scandal. They could just move the priest to somewhere else.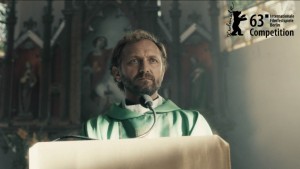 The story seems to be heading for the inevitable tragic ending, but that isn't at all what Szumowska is after or where she's going. This isn't a simple-minded, tabloid-style tale of a paedophile priest but a highly ambiguous and intelligent one about the universal need for love, shared by everyone, even priests apparently.
What you make of the story is up to you. It's there to make you think and feel, take out of your comfort zone. It's a very clever movie, expertly written and nicely paced, with credible performances, especially from Chyra as the priest, who shows exactly the tormented charisma and conflicted nature that makes his character work.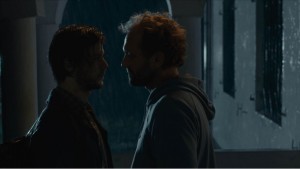 It's a provocative film, not taking the easy route, and it doesn't pull its punches with sex scenes, giving it the rare accolade of an 18 certificate in the UK. So it's adults only, according to the British Classification folk. Shame that because thinking is suitable work for everybody.
On the soundtrack in Some Broken Hearts Never Mend, so you see where we're going with this, though it is kind of amusing that it's performed by Telly Savalas.
It won the Teddy Award for Best Feature Film at the 63rd Berlin Film Festival in 2013.
© Derek Winnert 2013 Movie Review
Check out more reviews on http://derekwinnert.com