In Custody [Hifazaat] *** (1994, Shashi Kapoor, Om Puri, Shabana Azmi, Sameer Mitha, Neena Gupta) – Classic Movie Review 6359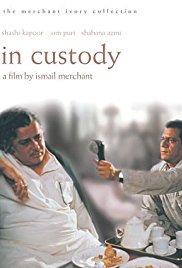 Ismail Merchant, lifelong producer of the Merchant-Ivory films, makes his first movie as director, in his intriguing though elusive 1994 film rendition of Anita Desai's novel. The performances by an ideal cast led by Shashi Kapoor and Om Puri are perfect.
Om Puri plays Deven, a teacher in a provincial Indian college and lover of Urdu poetry, who commissioned by an editor to interview the famed poet Nur Shahjehanabadi (Shashi Kapoor), now a broken, fat old man surrounded by hangers-on and pulled in opposite directions by his two wives.
Deven's attempts to record the poet's recitations are doomed through the old man's drunkenness, a failed tape recorder and a sleepy, inept kid who is acting as 'engineer'.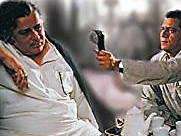 Merchant's film is basically a slim serio-comic anecdote stretched to a 126-minute feature length, told with a lack of urgent pace and momentum, and creaking under the weight of attempting to place too much meaning on its insubstantial frame.
However, through skill and talent, In Custody remains still very likeable and engaging, and often amusing and sometimes even extremely touching. Best of all, though, Puri and Kapoor give first-class performances, and it makes a lovely tribute to these two special actors, both of whom passed away in 2017.
Also in the cast are Sameer Mitha, Neena Gupta, Rupinder Kaur, Shahid Masood and Shabana Azmi, Sushma Seth, Tinnu Anand, Prayag Raj, Ajay Sahni, Sagar Arya and Alakh Nandan.
The screenplay is by Anita Desai and Shahrukh Husain. The film is shot by Larry Pizer, produced by Wahid Chowhan and scored by Zakir Hussain.
In Custody was Kapoor's last major film role. His association with the Merchant-Ivory team began in 1963 with The Householder and continued with Shakespeare Wallah (1965), Bombay Talkie (1970) and Heat and Dust (1983).
Om Puri died on 6 January 2017, aged 66.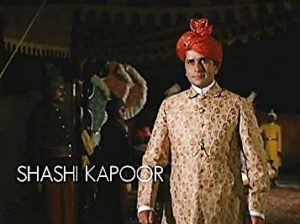 Iconic Indian superstar actor Shashi Kapoor died on 4 December 2019 at 79.
Merchant directed three other films, The Proprietor, Cotton Mary and The Mystic Masseur.
© Derek Winnert 2017 Classic Movie Review 6359
Check out more reviews on http://derekwinnert.com