Imperium ***½ (2016, Daniel Radcliffe, Toni Collette, Tracy Letts) – Movie Review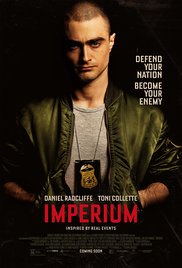 I liked it. Writer-director Daniel Ragussis's 2016 film is most interesting and involving. It works both as a tense thriller and a thought-provoking drama. The range of bad guys is impressive.
Leading the good guys, Daniel Radcliffe is very intense, stretching his range and acting muscles, as a young, inexperienced, conflicted FBI agent called Nate Foster, who goes undercover as a white supremacist, infiltrating a modern-day revolutionary group.
Toni Collette is good as always as his seasoned FBI agent boss Angela Zamparo, and they are excellent together. Tracy Letts is also excellent as the creepy Dallas Wolf.
© Derek Winnert 2016 Movie Review
Check out more reviews on http://derekwinnert.com