I'm So Excited! [Los amantes pasajeros] *** (2013, Javier Cámara, Pepa Charro, Cecilia Roth, Raúl Arévalo, Paz Vega, Blanca Suárez, Guillermo Toledo) – Movie Review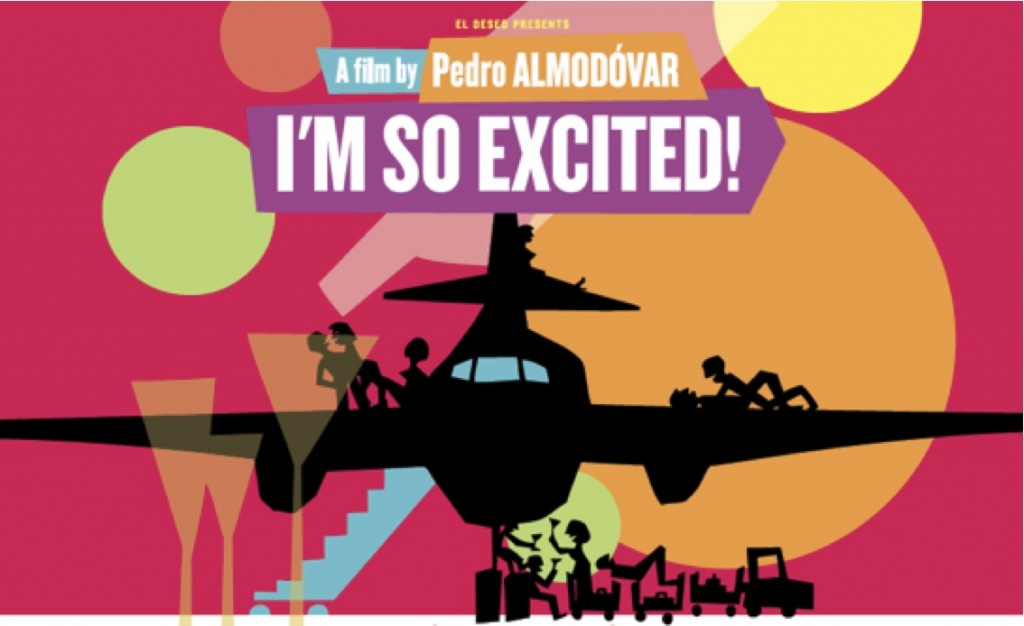 It's another Pedro Almodóvar film, 33 years on from his first Pepi, Lucy, Bom in 1980. The long-ago enfant terrible of Tie Me Up, Tie Me Down and Women on the Verge of a Nervous Breakdown has recently become an old master with Volver, Broken Embraces and The Skin I Live In. What to do next for the white-haired 63-year-old Harvard doctor? How to stay young and fresh, artistically? Well, dump the artistry and go for laughs.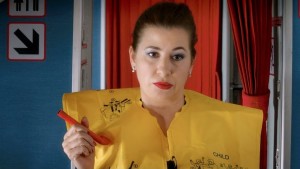 And so it's a return to his Eighties roots for writer-director Almodóvar – a likeably wacky comedy that's just daft, provocative, rude fun that looks and feels like a Spanish version of Airplane! parodying the old Airport movies. 'The writing had the cheeky self-confidence of the texts I wrote in the 80s,' he says. 'The scenes in the cockpit and galley were deliberately crazy; my only idea was to have fun. The style I had in mind is American screwball comedy from the 30s and 40s.' And that's exactly what he does and what's on offer here, in cabin-bag loads and in some style.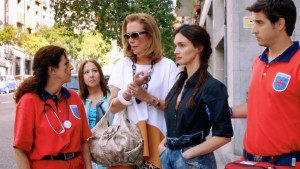 As usual nowadays, Almodóvar comes up with an extremely polished, slick-looking movie. Small and intimate though it is, almost all taking place in the business class and captain's cabin of a Mexico City-bound plane about to make a risky forced landing, it still looks a treat, smart, sleek and flashy. Shooting for the first time with digital cameras, he's made it sensuously plush in the pastel colours of the old Hollywood melodramas. And the location filming at a ghostly empty airport with the longest runway ever built in Spain is a huge asset to the film. It's so real it looks like a movie set!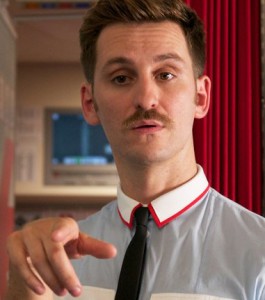 A plane takes off from Madrid's Barajas airport mid-afternoon. On the tarmac, there are glimpses of Almodóvar favourites Antonio Banderas and Penélope Cruz in cameos as León and Jessica. But, once aboard, we're in the company of less familiar actors, though some Almodóvar favourites are cast – Cecilia Roth, Lola Dueñas, Javier Cámara, Antonio de la Torre.
Plotwise, two ex-lovers (Paz Vega, Blanca Suárez) are abandoned by the same Don Juan (Guillermo Toledo) while a high-class blackmailer (Cecilia Roth) finds herself on the plane with the hired killer who's planning to murder her when they get to Mexico. Almodovar chucks alcohol, drugs, sexual explosions and embezzlement into the torrid mix. All human life is here! The gay alcoholic chief steward (Raúl Arévalo) is just the kind of shocking stereotype that takes the breath away. Oh, Almodóvar!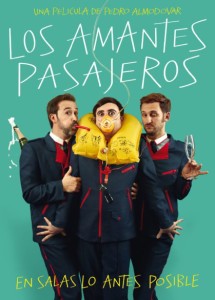 Fun though it may be for some, this won't be everyone's glass of cava. It's risky playing fast and loose, free and easy, with gay and female stereotypes like this. Whatever his actual intentions, which we'll assume are good but seem a shade obscure, Almodóvar could be misunderstood easily. He supposes the revolution is over, it's been won. Women and gays can boldly go.
Fine, women and gays can adopt the hostile media stereotypes, take them over and find them funny while laughing at anyone who finds them funny. Subtle, huh? So, the enemy's finally vanquished by laughing at its stupid ideas, like Charles Chaplin in The Great Dictator or Roberto Benigni in Life Is Beautiful.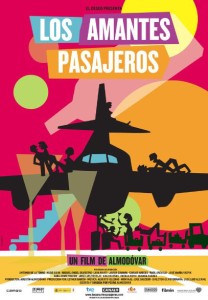 The obscurity for non-Spanish audiences is this. It looks like he's parodying Spanish soap operas or sitcoms that we haven't seen here, so we just have to imagine it is. But then he may not be and there's also a clever layer of mythology behind the playful silliness of the script, as Almodóvar accesses the story of Ariadne's thread helping Theseus not to get lost in Minotaur's labyrinth. Armed with this valuable clue, you'll have to try to work this out for yourself when you see the movie.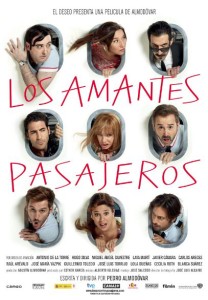 But though the mythological references might give the film a veneer of respectability, it's not about plot or even ideas but all about laughs and performances. As orchestrated by Almodóvar, the parodic performances are way, way over the top, as required, which are either funny or annoying to taste. And for the fans, the laughs will come thick and fast.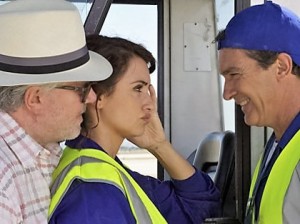 For those who don't know, I'm So Excited is a 1982 song by the Pointer Sisters, and the film goes for broke with its highlight sequence of a choreographed playback of the number, with a camp-as-a-row-of-tents dance by the three flight attendants, all through business class. 'I'm about to lose control and I think I like it,' the sisters sing. What it all means is anyone's guess. Almodóvar just invites to take the ride, enjoy the thrill. It probably will never be judged old Almo's best film or most popular, but, love it or loathe it, this is where this great cult favourite auteur is at in 2013. Stay to relish the delicious animated end credits.
© Derek Winnert 2013 Movie Review
Link to Derek Winnert's home page for more reviews: http://derekwinnert.com/