Il Bidone [The Swindlers] **** (1955, Broderick Crawford, Richard Basehart, Franco Fabrizi, Giulietta Masina) – Classic Movie Review 4202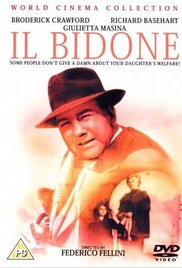 Broderick Crawford, Richard Basehart and Franco Fabrizi star as small-time crooks Augusto, Picasso and Roberto, who disguise themselves as priests to swindle the poor, in co-writer/ director Federico Fellini's 1955 Italian neo-realist drama. But, when one of the crooks, Augusto, runs into his own daughter who needs his help for her studies, he tries to con other swindlers, and all is set for a tragic climax.
A confident young Fellini mixes sentiment with tragedy, and clear-eyed observation with dewy-eyed longing for beauty and the unattainable, in a curious, downbeat, but involving and masterly film.
It wasn't that popular or admired in its day, but it is to be admired now, not least for the quality of Crawford's acting as aging small-time con man Augusto.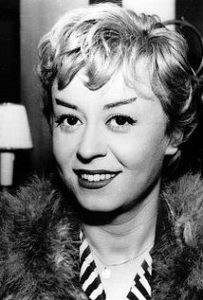 It also stars Giulietta Masina as Iris, and also in the cast are Sue Ellen Blake, Giacomo Gabrielli, Irene Cefaro, Alberti De Amicis, Lorella De Luca, Riccardo Garrone, Xenia Valderi, Mara Werlen and Maria Zanoli.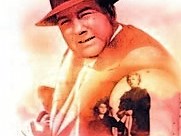 Fellini writes with Ennio Flaiano and Tullio Pinelli, the photography is by Otello Martelli. it is produced by Mario Derecchi, the production is designed by Dario Cecchi and Nino Rota provides the score.
Il Bidone is a little gem, quite neglected compared with some of Fellini's other finest films like 8½ [Eight and a Half] (1963), La Strada (1954), Nights of Cabiria (1957), Roma (1972), Amarcord (1973), Satyricon (1969) or of course La Dolce Vita (1960).
© Derek Winnert 2016 Classic Movie Review 4202
Check out more reviews on http://derekwinnert