If I Were King **** (1938, Ronald Colman, Basil Rathbone, Frances Dee, Ellen Drew, C V France, Heather Thatcher, Henry Wilcoxon, Sidney Toler)- Classic Movie Review 4762
Director Frank Lloyd's exuberant 1938 historical adventure stars Ronald Colman as the knavish Paris philosopher-poet François Villon and Basil Rathbone as the shrewd French King Louis XI.
Bot stars are excellent in Paramount's sleek and handsome version of Justin Huntly McCarthy's novel and play about the 15th-century French battle royal. The sappy plot has the vagabond poet Villon soon promoted to high constable after he kills the treacherous incumbent of the office. Preston Sturges's witty screenplay, Lloyd's scuttling direction and art director Hans Dreier's eye-catching sets are major assets.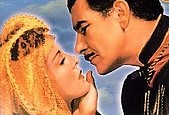 Colman is slightly miscast, but his lovely voice and commanding presence see him smoothly through, though he still leaves Rathbone, who is spot-on, to take the movie. The were four Academy Award nominations. Best Supporting Actor (Rathbone), Best Original Score (Richard Hageman), Best Art Direction (Hans Dreier, John B Goodman) and Best Sound Recording (Loren L Ryder) were all Oscar-nominated, but there were no wins though.
It co-stars Frances Dee as Katherine de Vaucelles, Ellen Drew as Huguette, C V France as Father Villon, Heather Thatcher as The Queen, Henry Wilcoxon as the Captain of the Watch, Sidney Toler as Robin Turgis, Stanley Ridges as Rene de Montigny, Bruce Lester as Noel le Jolys, Alma Lloyd as Colette, Walter Kingsford as Tristan l'Hermite, Colin Tapley as Jehan LeLoup, Ralph Forbes as Oliver Le Dain, John Miljan as Thibaut D'Aussigny.
Also in the cast are William Haade, Adrian Morris, Montague Love, Lester Matthews, William Farnum, Paul Harvey, Barry Macollum, Mary Beatty, Winter Hall, Francis McDonald, Ann Evers, Jean Fenwick, Darryl Hickman, Brandon Hurst, Judith King, Stanley King, Russ Powell, Cheryl Walker, Pat West, Harry Wilson, Lionel Belmore, Henry Brandon, Ethel Clayton, David Clyde, Alec Craig, John George and Eddie Hall.
There are other film versions of the story in 1920 and 1934, but more notably with the Rudolf Friml operetta music as The Vagabond King in 1930 with Dennis King and Jeanette MacDonald and as The Vagabond King in 1956 with Oreste Kirkop, Kathryn Grayson, Rita Moreno, Cedric Hardwicke, Leslie Nielsen, William Prince and Jack Lord.
© Derek Winnert 2016 Classic Movie Review 4762
Check out more reviews on http://derekwinnert.com