Ice Age: Collision Course ** (2016, Ray Romano, Denis Leary, John Leguizamo, Simon Pegg, Jessie J, Jennifer Lopez, Queen Latifah) – Movie Review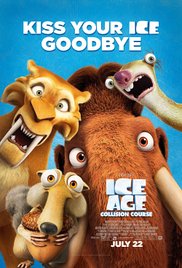 In the fifth episode of the long-running franchise, Scrat (Chris Wedge)'s pursuit of his elusive acorn has taken him outside Earth, and he accidentally sets off a series of cosmic events that threaten the planet.
Manny the mammoth, Diego the sabre-toothed tiger and Sid the sloth (voiced by Ray Romano, Denis Leary and John Leguizamo) and the rest of the herd leave their home and embark on a do-or-die quest to try to battle a meteor strike that would destroy the world. They join up again with one-eyed weasel Buck (Simon Pegg).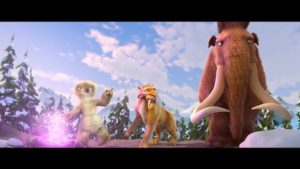 Beloved characters Manny, Sid and Diego somehow get lost in a a host of new characters in this weak and disappointing episode, with little in the way of a plot, funny gags or exciting adventure. Pegg's Buck has way too much to do and is irritating.
After rambling for some time, the plot wraps up suddenly and then a lot of horrid sentimentality sets in to fill the 90 minute running time. The Ice Age franchise started a lot sharper and funnier and more charming than this.
Apart from the title, there are no opening credits, they are all at the end, which is a shame because they are smart and give the needed vocal actor and character names.
The four previous episodes are Ice Age (2002), Ice Age: The Meltdown (2006), Ice Age: Dawn of the Dinosaurs (2009) and Ice Age: Continental Drift (2012).
© Derek Winnert 2016 Movie Review
Check out more reviews on http://derekwinnert.com