Ice Age **** (2002, voices of Denis Leary, John Leguizamo, Ray Romano) – Classic Movie Review 1050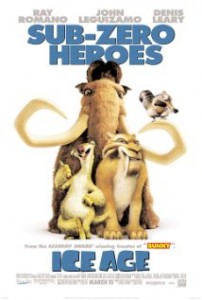 Once upon a time, dear children, long, long ago in the days of the big chill, Manfred (voice of Ray Romano), a woolly mammoth, and Sid (voice of John Leguizamo), a lazy sloth, are migrating south when they befriend an abandoned baby. Soon, Diego (voice of Denis Leary), a sinister, sabre-toothed tiger, arrives on the scene, and…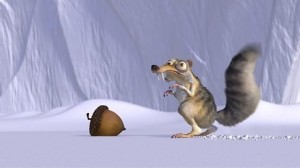 This smart and sassy animated adventure creates four adorably quirky characters and a delightful story about survival and friendship as they make a perilous journey to safety. It may have been sub-zero 20,000 years ago but, here, the tone is warm-hearted and spiced with lots of thrills and spills.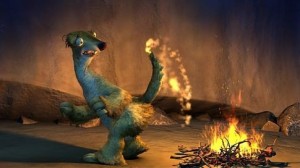 Directed by Chris Wedge and Carlos Saldanha (also the maker of Rio 2) in 2002, this is mammoth entertainment. Wedge also provides the voice of Scrat, the sabre-toothed squirrel, who is always having troubles with collecting his beloved acorns.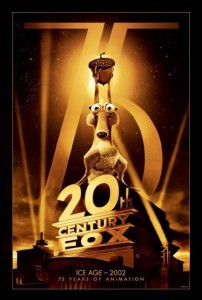 It was hugely popular, taking $383million worldwide, and four sequels have followed by 2016, Ice Age: The Meltdown (2006), Ice Age: Dawn of the Dinosaurs (2009) and Ice Age: Continental Drift (2012), which was the first without Saldanha, and Ice Age: Collision Course (2016). The second and third films were even more successful, taking $655 million and $886 million respectively worldwide.

Leguizamo said of a fifth instalment: "It sounds like they're working on something. So hopefully the answer is yes but I cannot say for sure.' On December 20 2013, 20th Century Fox scheduled the film Ice Age: Collision Course for release on July 15 2016.
The first four films, produced by Blue Sky Studios, a division of 20th Century Fox, on a total budget of $324 million, have grossed over $2.8 billion worldwide, making Ice Age the 11th highest-grossing franchise of all time, and the second highest-grossing animated franchise worldwide behind Shrek. Each film was the highest-grossing animated film of its release year and among the eight highest-grossing films of the film's year.
http://derekwinnert.com/rio-2-film-review/
© Derek Winnert 2014 Classic Film Review 1050 derekwinnert.com