I Saw the Light *** (2015, Tom Hiddleston, Elizabeth Olsen, Cherry Jones, Bradley Whitford) – Movie Review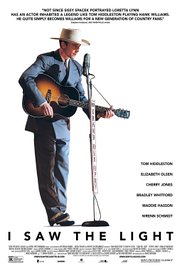 Writer-director Marc Abraham's engrossing biopic of the Fifties country-and-western singer Hank Williams chronicles his rise to fame and its damaging effect on his health and personal life, leading to his early death. To find the drama, the story focuses on his troubled first marriage, rather more than on the music, his motivations and his colourful character, though there are a quite a few stops for tuneful numbers and Hiddleston does a good job with the singing, as well as his vocal and physical impersonation of Hank.
There are some scripting problems and strain in carving out a movie story from a decade-long real-life narrative, a thought that's emphasised by the clumsy device of having a main character, the promoter Fred Rose (Bradley Whitford), appear regularly in interview form to keep us up to speed with the details and the narrative – and there's a long series of title cards too, reminding us of dates and places.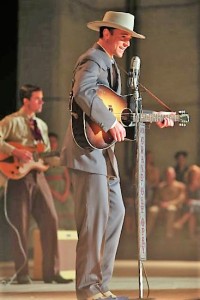 And it's tricky that Hank doesn't come across as a very nice person here, with his womanising and drinking. However, his singing first wife Audrey Mae Williams (Elizabeth Olsen) comes over even less sympathetically, portrayed as ambitious and tough as nails, so the script tries to swing you onto Hank's side. After all, he is the creative artist too, as well as the womaniser and drinker.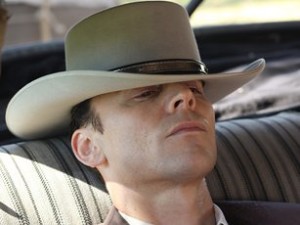 But it's a great period production in a fine looking film, with marvellous cinematography by Dante Spinotti and glorious production designs by Merideth Boswell. It is also notable for good acting all round, with a very good star performance by Tom Hiddleston, burying himself in the role and showing that the Englishman was right for the all-American part of Hank Williams. The songs (including of course the title track and Lovesick Blues) are strong for country fans, with a commendable score by Aaron Zigman.
I Saw the Light is a creditable job of work by Abraham, who has his first feature screen-writing credit and second directorial credit after Flash of Genius (2008). Country fans can safely go to be informed and well entertained.
Hiddleston serenaded cast and crew at the piano between scenes during filming.
© Derek Winnert 2016 Movie Review
Link to Derek Winnert's home page for more reviews: http://derekwinnert.com/