I Am Breathing – Film Review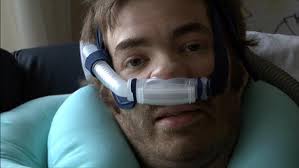 A bleak, terrifying experience, the utterly dark, distressing, desperate, heartbreaking story of one man dying of Motor Neurone Disease makes some of the most difficult watching of any recent film. Yet it's meant to provide knowledge, warmth, comfort and even humour, and at times it does all these things, and quite profoundly.
The thing that most strikes you as you see this documentary is the sheer, simple, plain everyday ordinariness of 34-year-old Englishman Neil Platt, his wife Louise and baby son Oscar. They're a nice family and he's a likeable, regular guy, just like millions of others. Against this, though, is his extraordinary courage and resolve in the face of the most appalling adversity possible. He wants to keep going somehow. He achieves this through a blog, sharing the last stages of his life with many people online with his incredible humour and honesty and dignity.
Do you actually want to see a documentary chronicling this man's year of dying. Well, probably not. But Neil Platt wanted you to. He spent his last year, in which he went from healthy young dad to becoming completely paralysed from the neck down, trying to communicate how it feels to live in the thin space between life and death. 'It's amazing how adaptable we are when we have to be,' he says. 'It's what separates us and defines us as human beings.'
With only a few months to live, he still has the ability to speak, and, as well as his blogging, puts together a letter and memory box for his son. He tries to make sense of his 34 years, anticipating what his kid might want to know in an unknown future, telling his life story from memories and impressions, focusing on love, friends and trips. Set against their present situation, the old photos and video clips of Neil and co when they were young and healthy and happy are incredibly moving.
Most importantly, Neil is looked after, watched over day and night by his family and friends. His wife seems immensely brave and stoic too, but loving and caring in an easy, profound way. This is the good side of this terrible story. Some people step up to the mark when you need them. Neil must have felt greatly loved, and this must have been a major comfort in his hour of desperate need. You never see any doctors, nurses or hospitals. Louise more or less does it all, and with great brisk grace and good nature.
Yet this is not a happy story. Neil's mother Lynne has faced his father's death in his fifties and now is going to see her son die in his thirties. I think I would have avoided it if I had really known what the documentary actually was. Yet I'm deeply glad I saw it. It's a tremendous, overwhelming experience, eye-opening and maybe even life changing.
The film-makers Emma Davie and Morag McKinnon faced a lot of ethical questions and moral dilemmas in making this film. However much care and love went into the filming, it does seem to intrude on what many would think a private experience. But Neil wanted to get his story out there, and they have served him well. No doubt their hope that he would have approved of the film is a true one.
(C) Derek Winnert 2013