The Human Centipede III (Final Sequence) * (2015, Dieter Laser, Laurence R Harvey, Eric Roberts, Bree Olson, Tom Six, Tommy 'Tiny' Lister, Clayton Rohner, Robert LaSardo) – Movie Review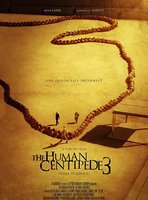 The Human Centipede comes to a sticky end.
German actor Dieter Laser (born 17 February 1942) returns from The Human Centipede (First Sequence) in 2009, which won him Best Actor at the Austin Fantastic Fest as Dr Joseph Heiter.
This proves a bit of a mixed blessing. I remember him being effective in the First Sequence but in Human Centipede III (Final Sequence) he way, way over-does his star turn as Bill Boss, the crazy boss of an American prison that desperately needs the most urgent of reforms. It makes the Shawshank State Prison seem like the Great Ormond Street Hospital for children.
Prompted by his equally crazy assistant Dwight Butler (Laurence R Harvey), Boss decides to create a 500-person human centipede as a solution to the problems he's having with his inmates and the state Governor Hughes (Eric Roberts), who is understandably perplexed and is threatening to fire him for incompetence.
Luckily (or unluckily) Dwight is obsessed with the original Human Centipede films, so he eventually talks Boss into the same idea at the jail. And he invites the movies' director, Tom Six (playing himself, none too convincingly) along to witness the 500 operations being performed by the jail's struck-off doctor.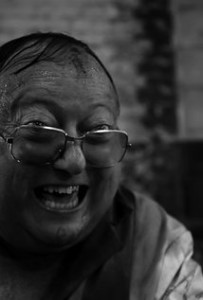 British actor Harvey is best known for portraying Martin Lomax in The Human Centipede II (Full Sequence) (2011), an obese, asthmatic and mentally challenged security guard for a parking lot, who is obsessed with the original film. He makes a welcome return in part three, and his performance, perhaps surprisingly, is the best judged and most effective of admittedly a bad lot in the movie.
There's plenty of stomach-churning factor in the sick events on show in this movie, but it makes the mistake of going the sendup route, which would be OK as a daft black comedy spoof but not as the perverse bloody farce it aims at. The actors are up for it, and the situation is promising, but, to work properly, it actually needs to be a gruesome horror movie with darkly humorous undertones not a silly, semi-satirical, self-referential, self-parody comedy.
Final Sequence loses its way and then gets entirely lost and Dieter Laser's one-note ranting goes from amusing to boring quite quickly.
Tom Six: 'In 100 years people will still be talking about my Human Centipede films'. Tom Six has plenty of talent and writer-director, so I hope he'll be back, with some fresh ideas.
© Derek Winnert 2015 Movie Review
Check out more reviews on http://derekwinnert.com