How Awful About Allan **½ (1970, Anthony Perkins, Julie Harris, Joan Hackett, Kent Smith) – Classic Movie Review 4820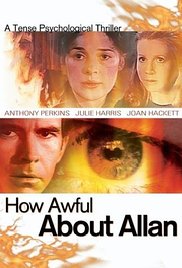 Director Curtis Harrington's intense 1970 psychological thriller stars Anthony Perkins as Allan, a tormented psychosomatic blind man who thinks that his release from an eight-month stay in a mental hospital and his proximity to his estranged sister Katherine (Julie Harris) will cure him of the guilt he feels over the fire that killed his father and scarred his sister.
But it is not Allan's fault that, when goes back home to stay with his sister, a mysterious boarder may be looking revenge and either trying to drive him crazy or kill him.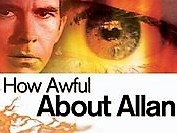 A very good set of actors is assembled to make it work and it is certainly entertaining and highly watchable. And, with this pedigree, the major talent involved in the cast, script and direction produces a way-above the run-of-the-mill TV chiller of the era.
Henry Farrell, author of What Ever Happened to Baby Jane? and Hush… Hush, Sweet Charlotte, adapts the script from his own novel. It also co-stars Joan Hackett, Kent Smith, Robert H Harris, Billy Bowles, Trent Dolan, Molly Dodd and Bill Erwin. It is produced by Aaron Spelling.
Contact lenses were made for Perkins that he could barely see through to make him nearly blind while filming.
© Derek Winnert 2016 Classic Movie Review 4820
Check out more reviews on http://derekwinnert.com