House of Wax **½ (2005, Elisha Cuthbert, Chad Michael Murray, Paris Hilton, Brian Van Holt, Jared Padalecki, Jon Abrahams, Robert Ri'chard) – Classic Movie Review 1111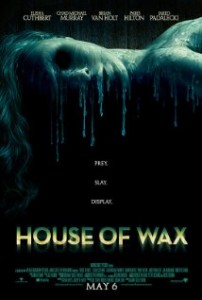 Director Jaume Collet-Serra's enjoyable 2005 chiller is a very loose remake of the venerable and revered old 1953 Vincent Price horror movie House of Wax, with the same situation but a considerably different plot.
In Chad and Carey Hayes's screenplay, six students motoring to a football game decide to camp out for the night and continue driving the next day. The camp site is visited by a menacing stranger in a pickup truck. The next day the friends find that they are having car troubles when Wade find his car's fan belt damaged.
Two of the friends, Wade and Carly, accept a lift from a stranger to the deserted Louisiana small town of Ambrose and stray into a wax museum presided over by a crazy murderous twin brother owners Brian and Vincent (both Brian Van Holt). Can the six friends escape from being the next human wax exhibits in the House of Wax?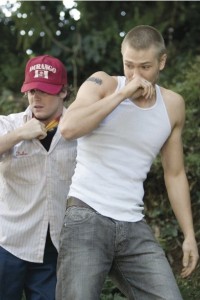 Elisha Cuthbert and Chad Michael Murray the main stars, as Carly Jones and her twin brother Nick, with Jared Padalecki as Wade, Jon Abrahams as Dalton Chapman and Robert Ri'chard as Blake.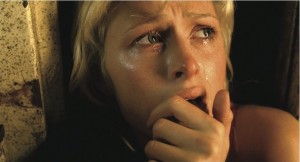 [Spoiler alert] And among the other stars is Paris Hilton, as Paige Edwards, who meets a sticky end that had cynical audiences cheering in cinemas.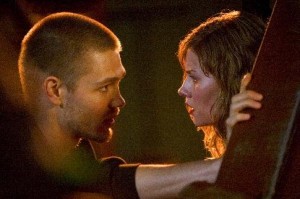 Based on the story by Charles Belden, this fun Dark Castle production is also a remake of an even older movie, the 1933 Mystery of the Wax Museum. Even in 2005, the jolts and chills in House of Wax are still fairly effective. It had a lot of flack from critics, and it may just be another formulaic teen slasher movie. But it is a professional job of work, entirely well and efficiently made by Collet-Serra. The actors are fine and professional too, including the maligned Hilton.
The OK box office brought in $70 million worldwide plus $42 million in DVD rentals (on a $30 million budget).
Hilton says: 'The directors wanted me to do nudity but I said no. I won't do it ever.'
Spanish director Collet-Serra is also known for Orphan (2009), Unknown (2011), Non-Stop (2014), Run All Night (2015) and The Shallows (2016).
http://derekwinnert.com/house-of-wax-1953-vincent-price-classic-film-review-1110/
© Derek Winnert 2014 Classic Movie Review 1111
Check out more reviews on http://derekwinnert.com