House of Games **** (1987, Lindsay Crouse, Joe Mantegna, Ricky Jay, J T Walsh) – Classic Movie Review 4004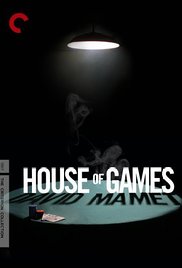 American Pulitzer-prize winning playwright David Mamet makes a clever directorial début with this teasing 1987 thriller.
It stars his then wife Lindsay Crouse as control-freak psychiatrist Margaret Ford, who makes the mistake of deciding to help one of her patients, Billy Hahn (Steven Goldstein), get out of a life-threatening gambling debt. She is then sucked into helping a confidence racket at a bar where razor-sharp conman Mike (Joe Mantegna) runs poker games.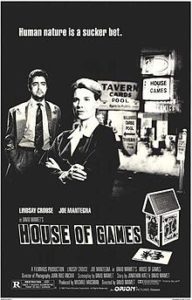 The performances of Crouse and Mantegna are commanding and extremely effective. But the main praise is for Mamet's dazzlingly stylised dialogue and the camerawork of cinematographer Juan Ruiz Anchía.
With its stings and scams, and grifters and con men, Mamet's labyrinthine The Sting-style thriller yarn makes for sleek, smart, satisfying entertainment.
Also in the cast are Mike Nussbaum, Lilia Skala, J T Walsh, Willo Hausman, Ricky Jay, William H Macy and Meshach Taylor.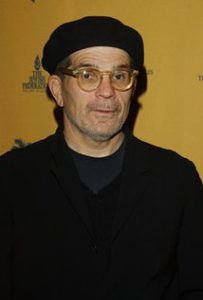 Writer, director and producer Mamet was married to Crouse from 1977  to 1991, and then to Rebecca Pidgeon. He is known for The Untouchables (1987), Glengarry Glen Ross (1992), Hannibal (2001) and Heist (2001) .
© Derek Winnert 2016 Classic Movie Review 4004
Check out more reviews on http://derekwinnert.com