House of 1000 Corpses ** (2003, Sid Haig, Karen Black, Bill Moseley, Sheri Moon, Michael J Pollard, Chris Hardwick, Erin Daniels, Jennifer Jostyn, Rainn Wilson) – Classic Movie Review 4710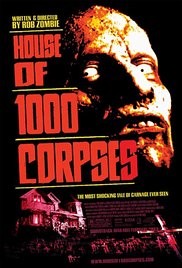 Four young people (Chris Hardwick, Erin Daniels, Jennifer Jostyn and Rainn Wilson) idiotically seeking the legend of Dr Satan, meet the crazy Captain Spaulding, who points them in direction of a family of psycho cannibals. And, when their car breaks down and they take shelter at the Firefly house, they are terrorised and tortured.
Pass the sick bag for writer-director Rob Zombie's really nasty, repellent 2003 horror movie, but with redeeming features as it is made with as many bags of style as bags of gore.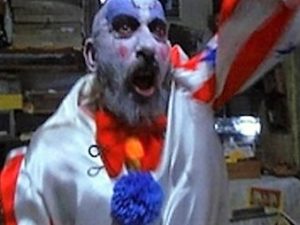 Sid Haig has a field day as waxworks owner Captain Spaulding and so does Karen Black as the scary, capricious serial killer Mother Firefly, Sheri Moon [Zombie]'s Baby Firefly character is a wonderfully monstrous creation and it is good to see Michael J Pollard again (as Stucky), even if he disappears far too early on. Why will nobody give these performers posh work any more?
Certainly no one can accuse writer-director Zombie of not giving it his all (and he has a cameo as the helper of Gregg Gibbs's Dr Wolfenstein), filming with great relish and conviction.
Also in the cast are Bill Moseley, Tom Towles, Walt Goggins, Mathew McGrory, Robert Allen Mukes, Dennis Fimple, Harrison Young, Wiliam Bassett, Irwin Keyes, Chad Bannon, Judith Drake, Ken Johnson, Jake McKinnon, Walter Phelan, Jod Dobbs III, Irvin Mosley Jr and David Reynolds.
Running 88 minutes, it is heavily cut by up to 20 minutes for cinema and DVD.
© Derek Winnert 2016 Classic Movie Review 4710
Check out more reviews on http://derekwinnert.com