Homeward Bound: The Incredible Journey *** (1993, Robert Hayes, Kim Griest, Jean Smart, voices Michael J Fox, Sally Field, Don Ameche) – Classic Movie Review 4351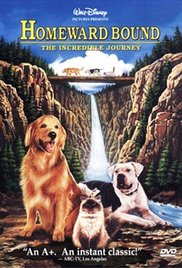 Walt Disney Pictures's sweet, amusing and engrossing 1993 family movie remake of its 1963 wildlife hit The Incredible Journey re-tells the tale of a trio of pets, two dogs and a cat, trekking across mountains, and surviving hardships, to get back to their young owners in San Francisco. They have become separated from them after escaping from a California ranch.
The adventure comedy drama stars Robert Hayes, Kim Griest and Jean Smart, along with Benj Thall, Veronica Lauren and Kevin Chevalia.
However, this time the animals talk and joke, in the appealing, characterful voices of Michael J Fox (voice of the main dog Chance), Sally Field (voice of the cat Sassy) and Don Ameche, who is outstanding as the old Golden Retriever doggie Shadow. Sadly, it was one of Ameche's final movies before his death the year of the film's release.
With the story based on the novel by Sheila Burnford, the humour in Caroline Thompson and Linda Wolverton's screenplay is on the simple and over-broad side, though is is quite funny. But director Duwayne Dunham's handling is extremely effective, there is some lovely scenery (California's Sierra mountains) and Reed Smoot's striking cinematography is also outstanding.
It was popular and a sequel soon followed: Homeward Bound II: Lost in San Francisco (1996).
© Derek Winnert 2016 Classic Movie Review 4351
Check out more reviews on http://derekwinnert.com