Home Alone 2: Lost in New York *** (1992, Macaulay Culkin, Joe Pesci, Daniel Stern, Catherine O'Hara, John Heard) – Classic Movie Review 2858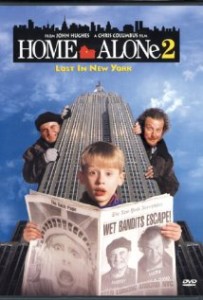 Director Chris Columbus's hastily concocted 1992 sequel re-assembles the whole hit 1990 Home Alone team's for Macaulay Culkin's re-match with bumbling baddies Joe Pesci (as Harry Lime!) and Daniel Stern (as Marv).
One year after the home alone events of the first film, he is once again separated from his mom (Catherine O'Hara) and dad (John Heard), this time on a vacation to New York. Harry and Marv turn up there too, plotting a huge holiday heist.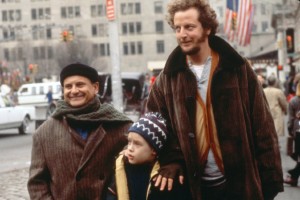 Culkin again turns on the ingratiating cute charm as Kevin McCallister, in an effortless, natural performance that makes acting look like child's play. Producer John Hughes's screenplay might be slightly less funny than before but it is propped up by the expert returning cast as well as by plucky turns from British star character actors Tim Curry as a hotel employee and Brenda Fricker as a bag lady.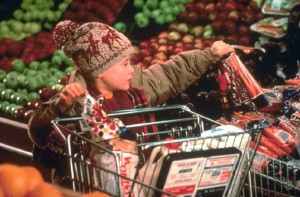 But is the cheeky, rowdy and rumbustious Kevin McCallister a good role model? The simple, good-natured comedy is laced with considerable malice in the knockabout scenes, and perhaps it's a bit worrying that sickly and unpleasant violence by an 11-year-old boy is presented as fun and funny.
But then everyone knows that it's only a movie, and that it's a daft slapstick comedy. More worrying is the carelessness of the parents, who leave the boy home alone yet again through their carelessness, causing all his problems in the first place.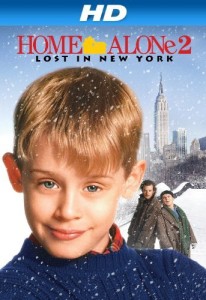 Also in the cast are Devin Ratray, Hillary Wolf, Kieran Culkin, Eddie Bracken and Dana Ivey.
There have been three more sequels so far, without Macaulay Culkin, starting with Home Alone 3 (1997) and Home Alone 4 (2002), and the most recent Home Alone: The Holiday Heist (2012).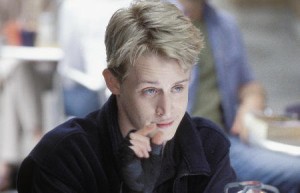 Talented but unfairly struggling to gain recognition as an adult actor, Macaulay Culkin made his most recent movie in 2007. Culkin was 35 on August 26 2015.
© Derek Winnert 2015 Classic Movie Review 2858
Check out more reviews on http://derekwinnert.com