Hocus Pocus *** (1993, Bette Midler, Sarah Jessica Parker, Kathy Najimy, Omri Katz, Thora Birch, Vinessa Shaw) – Classic Movie Review 1840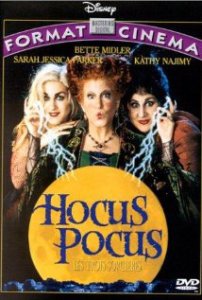 Director Kenny Ortega's 1993 movie is an amusing, high-spirited Halloween fantasy comedy from the Walt Disney studio. Bette Midler, Sarah Jessica Parker and Kathy Najimy give engaging turns as three witch sisters hanged in 1693 who are accidentally resurrected on Halloween night by a Salem's lot of Massachusetts kids investigating a haunted house 300 years later. Now the two teenagers, a young girl and an immortal cat have to put an end to the witches' reign of terror.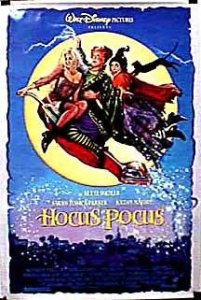 Even under all the make-up, Midler, Parker and Najimy make quite an impression, while the child actors are as squeaky clean as they are squeaky voiced.
Director Kenny Ortega's handling and Mick Garris and Neil Cuthbert's screenplay lack quite enough finesse and pizzazz to make it special for adults. But there are enough jokes and one wizard production number, 'I Put a Spell on You', to make it entertaining, especially for older children and teens.
Omri Katz, Thora Birch, Vinessa Shaw, Amanda Shepherd, Stephanie Faracy, Larry Bagby and Doug Jones also appear.
In November 2014, a belated sequel is being promised as the actresses say 'we're in!'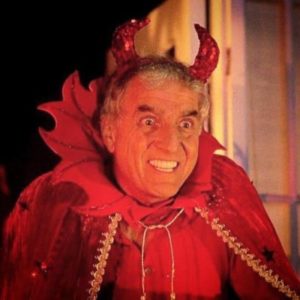 Garry Marshall (1934–2016) has a cameo as the Devil and Penny Marshall (the younger sister of Garry) as The Master's Wife. 
The Princess Diaries star Anne Hathaway paid warm tribute to Garry Marshall, who died on July 19 2016, aged 81: 'He was goodness itself". He directed a series of delightful confections over more than three decades: The Flamingo Kid (1984), Overboard (1987), Beaches (1988) also with Bette Midler, Pretty Woman (1990), The Princess Diaries (2001), The Princess Diaries 2: The Royal Engagement (2004), Raising Helen (2004), Valentine's Day, New Year's Eve and Mother's Day (2016).
© Derek Winnert 2014 Classic Movie Review 1840
Check out more reviews on http://derekwinnert.com/