Hit the Deck *** (1955, Tony Martin, Jane Powell, Ann Miller, Debbie Reynolds, Walter Pidgeon, Kay Armen, Vic Damone, Russ Tamblyn, Gene Raymond) – Classic Movie Review 4776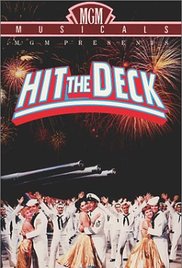 Director Roy Rowland's 1955 movie is a happy remake of the 1930 musical comedy movie version of Hubert Osborne and Vincent Youmans's hit 1927 Broadway show Shore Leave. It stars Tony Martin, Jane Powell, Ann Miller, Debbie Reynolds, Walter Pidgeon, Kay Armen, Vic Damone, Gene Raymond and Russ Tamblyn.
A bright and talented MGM cast with some smashing singers (Jane Powell, Debbie Reynolds, Kay Armen, Vic Damone) and super actors (Walter Pidgeon, J Carrol Naish, Jane Darwell) greatly enlivens an old-fashioned, second-level show about three sailors up to their navels in girl trouble on shore leave.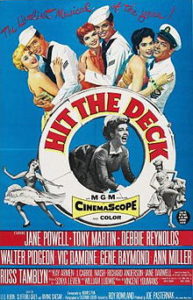 One of them, sailor Danny Xavier Smith (Russ Tamblyn) sets out with the other two to save the virtue of his sister Susan (Jane Powell). She will apparently do anything to get a role in the show Hit the Deck, so they wreck the producer's hotel suite, ending up in the brig.
The astounding Ann Miller gets the showstopper, as she deserves to do, in Leo Robin and Vincent Youmans's 'The Lady from the Bayou' and also rejoices in the delightful 'Keepin' Myself for You'. Other great moments in the movie include Powell and Damone in 'Sometimes I'm Happy'; Reynolds and Russ Tamblyn dancing in a funhouse; Miller, Powell and Reynolds singing 'Hallelujah'; the standard 'I Know that You Know', and Tony Martin trilling the lovely 'More than You Know'.
It was made towards the end of the glorious reign of the MGM musical, but the confidence and brio are still there.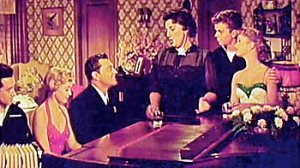 Also in the cast are J Carrol Naish, Richard Anderson, Jane Darwell, Alan King, Henry Slate, Robert Burton, Dabbs Greer, Peter Leeds, Frank Reynolds and Robert Williams.
The numbers are choreograped by Hermes Pan, best known as Fred Astaire's choreographer. Tamblyn's singing voice is dubbed by Rex Dennis.
The Broadway musical Shore Leave opened on 25 April 1927 at the Belasco Theater in New York and ran for 352 performances. Hubert Osborne's original play Shore Leave was also adapted as Follow the Fleet (1936), the Fred Astaire/Ginger Rogers film, with a score by Irving Berlin.
The 1930 version with its last three reels in two-strip Technicolor is apparently a lost film. Only the soundtrack to one reel is known to survive.
© Derek Winnert 2016 Classic Movie Review 4776
Check out more reviews on http://derekwinnert.com