Highwaymen ***½ (2004, Jim Caviezel, Rhona Mitra, Frankie Faison, Colm Feore) – Classic Movie Review 4403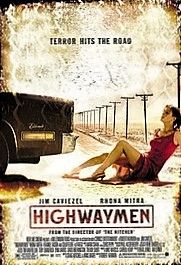 Jim Caviezel stars as Rennie Cray, who hunts his wife's crazy hit-and-run serial killer in director Robert Harmon's slick, stylish and speedy 2004 crime action thriller that mixes Duel, Crash (1996) and Road Kill to driving effect.
Caviezel soon gets into top gear on his bloodthirsty revenge rampage in his '68 Plymouth Barracuda and Colm Feore revvs up nicely as the lip-smacking bad guy, James Fargo, a no-mercy, wheelchair-using psychopath who operates from his '72 Cadillac Eldorado. It also stars Rhona Mitra, Frankie Faison, Gordon Currie, Andrea Roth and Noam Jenkins.
It is excitingly written by Craig Mitchell and Hans Bauer.
Harmon is the director of The Hitcher (1986), Eyes of an Angel (1991), Nowhere to Run (1993) and They (2002).
© Derek Winnert 2016 Classic Movie Review 4403
Check out more reviews on http://derekwinnert.com