Hide and Seek **** (2005, Robert De Niro, Dakota Fanning, Famke Janssen) – Classic Movie Review 116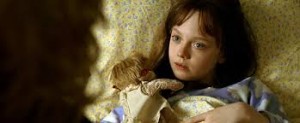 Director John Polson (Swimfan) and writer Ari Schlossberg deliver an extremely sleek, eerie and effective psychological chiller, made in 2005. The polished production and the excellent, highly detailed performances of Robert De Niro and Dakota Fanning are the meat of the movie, making it compelling, actually quite hypnotic. They share terrific chemistry, and Fanning, at the age of only 11, is uncannily good.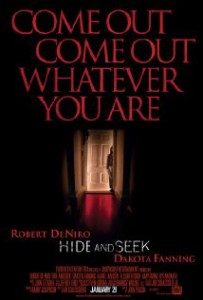 The horror, the mystery, the thriller are all attended to perfectly. This is a little, forgotten gem of a movie. It deserves much more recognition and higher status.
New York City psychologist David Callaway (De Niro)'s wife has died in a bloodbath – literally – and he takes his disturbed little daughter Emily (Fanning) off to a new home in upstate New York to try to recover. The little girl seems to find much comfort in her imaginary friend called Charlie. But…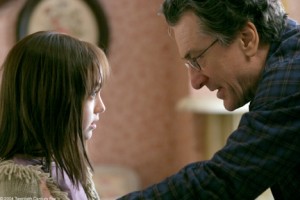 As it has to be in order to work, the big twist is successfully hidden until the last moment. But, it's a measure of the film's quality that you can watch it several times and enjoyment doesn't depend on the twist. It's the kind of movie where the quality of the execution is everything – and it delivers. Apart from  the acting, specially noteworthy are Polson's tense and atmospheric direction, Dariusz Wolski's sleek, eye-catching cinematography and John Ottman's haunting score.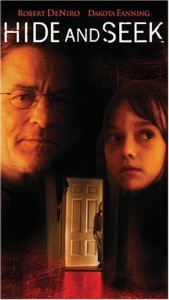 The notable support cast is headed by Famke Janssen, Elisabeth Shue, Amy Irving, Dylan Baker (as the sheriff), Melissa Leo and Robert John Burke, all of them ideal. Virtually excised from the movie, Brendan Sexton III's tiny role as fishing store clerk appears in the DVD out-takes.
The film company shipped prints of the movie without the final reel, and security guards hand delivered the reel to cinemas, so no one would know the twist. However, the widescreen DVD has four alternate endings! The DVD also has a branching system that includes accessing the four different versions of the film.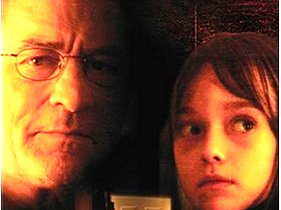 Distributors Twentieth Century-Fox submitted two versions to the BBFC: The International Version (101min, 1sec) and the Domestic Version (100min, 47secs), both were given cert 15 and both were released in UK cinemas.
[Spoiler alert] One version ends with Dakota Fanning's character being kept in the hospital, the other sees her staying with Famke Janssen's character, drawing a picture of a two-headed figure.
© Derek Winnert 2013 Classic Movie Review 116
Check out more reviews on http://derekwinnert.com