Hidaldo ***½ (2004, Viggo Mortensen, Omar Sharif, Zuleikha Robinson) – Classic Movie Review 4164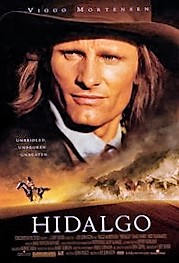 Viggo Mortensen stars in his first post-Lord of the Rings movie as 1890s real-life Pony Express cowboy courier Frank T Hopkins, who takes his mustang Hidaldo to the Arabian Desert to compete in a big-prize survival race, the 3,000-mile Ocean of Fire.
Director Joe Johnston's engaging and entertaining, old-fashioned 2004 adventure epic is a bit long and sprawling at 136 minutes. But it easily makes up for that by ravishing the eye and riveting the attention.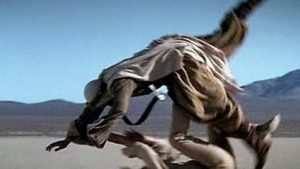 Mortensen makes a fine hero, commanding the screen, and Omar Sharif twinkles effectively in his first film for seven years as a noble desert-dwelling sheikh. Zuleikha Robinson co-stars as Jazira and also in the cast are Louise Lombard, Adam Alexi-Malle, Saïd Taghmaoui, Silas Carson, Harsh Nayyar, J K Simmons, Adoni Maropis, Victor Talmadge, Joshua Wolf Coleman and Peter Mensah.
Gloriously filmed in California, the Blackfeet Indian Reservation in Montana, the Blackhills National Forest in South Dakota and in Morocco, Hidaldo is quite an eyeful.
Real-life equine-mad Mortensen acquired the movie horse TJ that plays Hidaldo, just like he bought his Lord of the Rings steed.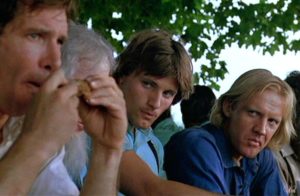 Mortensen made his film debut in Witness (1985).
© Derek Winnert 2016 Classic Movie Review 4164
Check out more reviews on http://derekwinnert