Hedwig and the Angry Inch **** (2001, John Cameron Mitchell, Michael Pitt, Miriam Shor, Stephen Trask, Andrea Martin, Karen Hines, Alberta Watson) – Classic Movie Review 4603
Writer-director John Cameron Mitchell's 2001 cult American musical comedy drama is a tour de force for him, giving a sensational performance in the title role of Hedwig based on his original in his source stage show, written with Stephen Trask. The exhilarating film, with thrilling songs, explores Hedwig's past, present and complex gender identity.
The story follows the story of a fictional rock band fronted by an East German transgender punk-rock singer who survives a botched sex change operation. She is Hedwig, born in East Berlin as a boy named Hansel, who fell in love with an American G I and underwent the sex-change operation to marry him and flee to the West.
Years later, Hedwig is touring the U S with her backing band the Angry Inch, telling her life story. Hedwig developed a relationship with the younger Tommy Gnosis (Michael Pitt) and became Tommy's mentor, lover, band-mate and musical collaborator but Tommy stole her songs and left her. Hedwig's tour dates coincide with those of Tommy, now an arena rock star.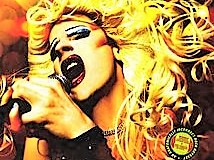 It won the Best Director and Audience Awards at the Sundance Film Festival as well as Best Directorial Debut from the National Board of Review, the Gotham Awards, and the Los Angeles Film Critics Association. Mitchell received a Golden Globe nomination for Best Actor and the Premiere magazine Performance of the Year Award.
But somehow this brave, bold and brilliant film did not get the audience it deserved, grossing only $3.6 million from an estimated $6 million budget.
© Derek Winnert 2016 Classic Movie Review 4603
Check out more reviews on http://derekwinnert.com