Heartburn *** (1986, Meryl Streep, Jack Nicholson, Jeff Daniels) – Classic Movie Review 4828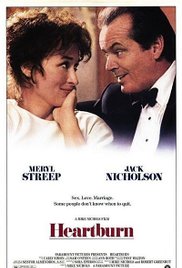 Producer-director Mike Nichols's engrossing 1986 movie memorably stars Meryl Streep and Jack Nicholson in their prime. They make a predictably electric star pairing in a serious comedy drama based on Nora Ephron's best-selling semi-autobiographical novel about the breakup of her troubled marriage to Watergate journalist Carl Bernstein (All the President's Men).
Streep plays the Ephron character Rachel Samstat, a food writer at a New York magazine who meets Mark at a wedding and ends up falling in love with him. Nicholson plays Washington columnist Mark Forman, who marries Rachel. They buy a house and have a daughter. Rachel is having her second baby. Mark is having an affair. Rachel thinks they are living happily ever after until she finds out.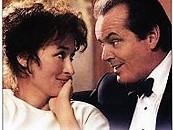 Streep is funny during the couple's wedding and later when she announces her pregnancy. But Nicholson is a tough act even for her to play opposite, and he steals all their scenes together.
Though the film could be more incisive and substantial, it is still highly entertaining and extremely well played. Ephron provides her own expert screenplay. There is a cute theme song from Carly Simon.
Also in the classy cast are Jeff Daniels, Maureen Stapleton, Stockard Channing, Richard Masur, Steven Hill, Milos Forman, Catherine O'Hara, Karen Akers, Mercedes Ruehl, Joanna Gleason, Kenneth Welsh, Anna Maria Horsford, Ron McLarty, John Wood, and Kevin Spacey (subway thief) in his film debut.
© Derek Winnert 2016 Classic Movie Review 4828
Check out more reviews on http://derekwinnert.com