Heartbreak Ridge **** (1986, Clint Eastwood, Marsha Mason, Mario Van Peebles, Everett McGill) – Classic Movie Review 3289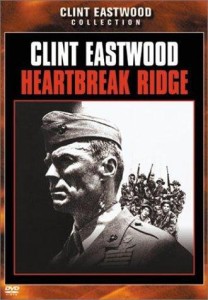 Clint Eastwood directs and stars in this stalwart, gung-ho 1986 action drama about the US Marines' 1983 invasion of Grenada, written by Vietnam veteran James Carabatsos. His tough, bantering, foul-mouthed screenplay rings the changes on the usual war movie clichés and stirs up exciting scenes of training and action.
Eastwood plays career Marine and combat veteran Gunnery Sergeant Tom Highway, a hard-nosed training sergeant bullying a platoon of dozy young US marine recruits with bad attitudes into battle readiness. A rapping Mario Van Peebles is the key new guy Stitch.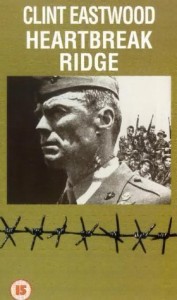 Eastwood (who also produced the film and wrote one of the soundtrack's songs) gives a rugged, convincing performance in this stirring flag-waver that annoyed some audiences with its forthright pro-American attitudes.
Hard-drinking loner Highway has won the Congressional Medal of Honor but has found a world of public apathy and military bureaucracy he hates. A bit of a personal mess, he is trying to re-organise his life and get to grips with the woman he loves, his ex-wife Aggie (Marsha Mason).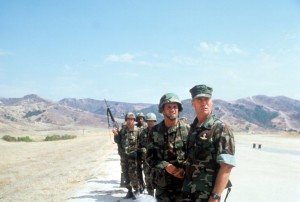 Near retirement, Highway is back at his old unit at Cherry Point, North Carolina, to train a reconnaissance platoon. Everett McGill, plays his much younger and combat inexperienced superior officer Major Malcolm Powers, who sees Highway as a relic of an old-style military. Boyd Gaines plays Highway's commanding officer, platoon leader Lieutenant Ring, also younger and inexperienced, but, in contrast to Powers, he is academic and laid back.
Although Heartbreak Ridge is not well liked, it may be one of Eastwood's best films. The movie is a long one at 130 minutes but it keeps going and holds the attention, and is robust and effective. It makes a good change of pace for Eastwood, who is excellent in the big athletic role in which he manages to be heroic, affecting and funny by turns. Marsha Mason has to handle the less interesting, rocky romance stuff as Highway's ex-wife, and it is difficult for her because she does not get much to work on.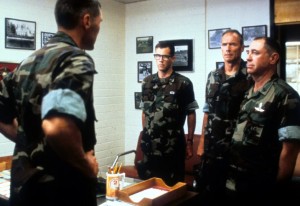 Also in the cast are Moses Gunn, Eileen Heckart, Bo Svenson, Vincent Irizarry, Ramón Franco, Tom Villard, Mike Gomez, Arlen Dean Snyder, Peter Koch, Rodney Hill and Richard Venture.
It is made by Malpaso, released by Warner Bros, shot by Jack N Green, produced by Eastwood and Jay Weston, scored by Lennie Niehaus and designed by Edward Carfagno.
Carabatsos, who served with the 1st Air Cavalry Division in Vietnam in 1968-1969, is also known for No Mercy (1986) and Hamburger Hill (1987).
© Derek Winnert 2016 Classic Movie Review 3289
Link to home page for more reviews derekwinnert.com