Hatari! ** (1962, John Wayne, Hardy Krüger, Elsa Martinelli, Red Buttons, Gérard Blain, Michèle Girardon, Bruce Cabot) – Classic Movie Review 3921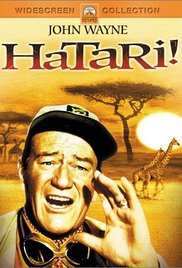 John Wayne, Hardy Krüger, Elsa Martinelli, Red Buttons, Gérard Blain, Michèle Girardon, Bruce Cabot and company look as though they are having a better time than the animals they are chasing in producer-director Howard Hawks's 1962 comedy adventure.
The legendary star Wayne and film-maker Hawks planned a nice relaxed holiday in Tanganyika to make this tale of game-hunters trapping wild animals in Africa and selling them to zoos.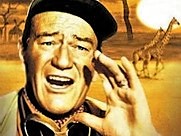 Alas, the movie is way too relaxed, sloppy even. The pacing is as slack as the direction, and, if the film were a lot shorter than 157 minutes, it would be a whole lot better. Wayne, Krüger and Martinelli are fine, and reasonably good company, but Buttons and Cabot are annoying as Wayne's manager Pockets and the philandering, womanising sharpshooter Little Wolf, aka The Indian.
In the circumstances, Martinelli does especially well in this man's man movie to shine as Dallas D'Allesandro, the female wildlife photographer who is threatening to change the men's old-style ways.
They might have had a lot of fun making it, but Russell Harlan's pretty Oscar-nominated photography of the holiday the star and director planned, the Henry Mancini music and the elephants are the best of what is going on screen. Despite its shortcomings, this amiable picture remains quite good fun, though, none the less, especially for Wayne and Hawks fans.
Based on a story by Harry Kurnitz, with a screenplay by Leigh Brackett, it was originally planned by Hawks as a vehicle for for Clark Gable.
Apparently 'Hatari' is Swahili for danger.
Also in the cast are Valentin de Vargas, Eduard Franz, Jon Chevron, Eric Rungren, Emmett Smith, Sam Harris, Henry Scott and Jack Williams. Queenie Leonard's scenes as the nurse were deleted.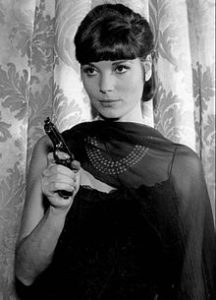 RIP Elsa Martinelli, who died on 8 July 2017 in Rome at the age of 82.
© Derek Winnert 2016 Classic Movie Review 3921
Check out more reviews on http://derekwinnert.com